"Give Me The Power I Beg Of You
…to give these dear readers a newsletter full of news about all the best cult releases!" Welcome to another Cult Labs newsletter. Huzzah! Once again it's bubbling to the brim and bursting at the seams with all it's juicy cult movie content. So, without further ado here are all the best things that's happened this week that you may have missed. Enjoy!
ALL THE BEST CULT RELEASES
The Raid
"When there's nowhere left to run or hide… you fight or die" says the film's tagline. And boy does he fight! If you're fed up of seeing films with 'action stars' who are about as tough as a mouse wearing a tutu glammed up with excessive CGI and are looking for something with a bit more bite, oomph, gusto, vavavoom, grrr and other words to that effect, The Raid is a must see! Recently described as the best Martial Arts movie of all time, The Raid has received a phenomenal amount of 5 star reviews. Out on the 18th May, this film will blow your mind! If you happen to live in Wales, why not see it before everyone at the premiere (more details can be found here)? To celebrate the fact that this film is such a game-changer, The Raid UK Facebook page has a great article on other game-changing films. From Star Wars to Enter The Dragon and much more. It's all here! Join the group for all the latest news, reviews and exclusives.
The Divide
Out on Monday is Xavier Gens latest hard-hitting horror, The Divide If you've seen his Frontier(s) or Hitman, you'll know just how shocking, grim and disturbing Gens can be. The Divide is no exception! You have been warmed! With an almighty cast that gives incredible performances, this hard-to-watch sci-fi horror tells of a group of survivors, slowly deteriorating from madness and radiation sickness, in a post-apocalyptic world. If you like you like your movies on the dark side, this should definitely be on your list of films to see asap. The Divide is out on Monday and can be Pre-Ordered here from Amazon. Take a look at these exclusive interviews with the director too – fascinating stuff.
The House By The Cemetery
This week saw the highly anticipated release of the classic Italian Zombie classic, The House By The Cemetery. Amongst Fulci's greatest films, Arrow Video's Dual-Format edition of this film came out on Monday. Including a totally uncut DVD and a Blu-Ray version of the film, you can now watch the blood spray in glorious high definition. Order yours from Amazon and visit the release's official thread to find out all the juicy details.
In other Arrow news, the final artwork for Combat Shock has just been revealed. To see it… well you'll just have to click here for that!
Shameless Screen Entertainment
Everyone loves Shameless! Well, at least all those who enjoy dodgy, sleazy exploitation cult movies. From the big New York Ripper, Dellamorte Dellamore to Cannibal Holocaust to the lesser known Ratman, The Designated Victim and Footprints On The Moon Shameless have always delivered the best in Italian exploitation. Have you seen one of their films recently? Don't be afraid to let us know what you thought about it on the Official Shameless forum! Start up your own threads and join in the discussions. Share your thoughts on the latest release, the Sexploitation box set, and find out all about the next scheduled release here.
Perhaps most exciting of all is the upcoming Cine Excess show. Alongside Keoma it's also been announced this week that The Bronx Warriors will also be screening with very special guests Enzo G. Castellari and Sergio Martino! For more details, just head here.
War Of The Zombies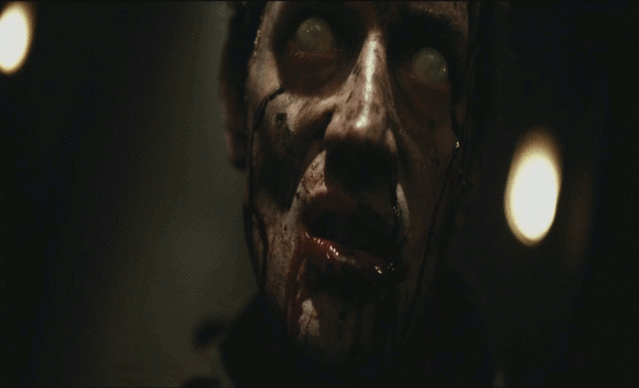 If you thought Dead Snow was a great Nazi Zombie film, you ain't seen nothin' yet! War Of The Dead is the newest entry to this mini-genre and is great fun – it has everything you'd possibly want from a Nazi Zombie film and so much more! Staring Mark Wingett from The Bill and proving to be Lithuania's most expensive movie to date. If you're a zombie nut like yours truly, you'll absolutely love this cross between Dog Soldiers and Day Of The Dead.  For a sneak peak of this, take a look at these GIFs and the exclusive clips we have on offer, over on the Official War Of The Dead forum! War Of The Dead is out on the 28th and can be pre-ordered here. If that's not enough reasons to see, take a look at this blog.
Catch. 44
When a film can brag about starring Bruce Willis, Forest Whitaker and Brad Dourif in the style of a Quentin Tarantino movie, you know you're on to a real winner! Full of clever dialogue, witty references, heaps of style and more twists and turns than a curly chip on a roller-coaster, Catch .44 is an incredible new movie. With it's intriguing non-linear narrative, it's very hard not to spoil anything. So I wont, instead I'll save it for you to discover. Also out on the 28th, Catch .44 can be picked up from Amazon.  The forum's been buzzing with chit chat about Catch. 44 including a poll and thread dedicated to both Forest Whitaker and Bruce Willis' greatest movies. Share yours here!
WIN! WIN! WIN! BECAUSE WE'RE GENEROUS LIKE THAT!
This week we're giving three lucky people the chance to win Shameless' Don't Torture A Duckling. A classic of giallo cinema that's super easy to win! The competition ends on Sunday so, chop chop, get to it!
—
Well, that's it for this week but remember there are so many ways you can get involved with all the cult film fun at Cult Labs: