Mayhem Horror Film Festival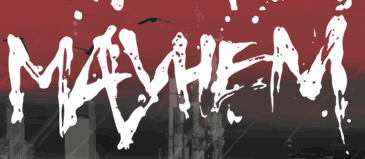 Dates:
27th - 30th October 2011
Location:
Broadway Cinema
- Nottingham
Running for FIVE days from Thursday 27th until Monday 31st October with a line-up that cannot be missed. Following the incredible success of last years special guest Gareth Edward's and screening of MONSTERS, this years festival starts with a hugely anticipated new film from BBC Films -
Thursday 27th October 9pm. THE AWAKENING plus Nick Murphy & Stephen Volk.
This year MAYHEM opens with an incredible British supernatural thriller from debut UK director Nick Murphy and from the pen of Stephen Volk. THE AWAKENING stars Rebecca Hall and Dominic West and has just enjoyed great success at the prestigious Toronto International Film Festival and plays at the London Film Festival before making it's regional premier at Broadway Cinema in Nottingham. The director joins us for a talk. 9pm Thursday 27t
Friday 28th October 7.45pm. WICKER TREE plus ROBIN HARDY
Special Guests don't come more special than ROBIN HARDY the creator of the original THE WICKER MAN who joins us at the festival to discuss his career and to screen his new film THE WICKER TREE. Robin Hardy changed the face of Horror cinema forever with the Christopher Lee starring film. Friday 28th 7.45pm.
Sunday 30th October 6.45pm
Stephen Volk wrote the screenplay for THE AWAKENING but is perhaps more famous for creating cult television drama GHOSTWATCH which was so controversial on it's original airing that the BBC have never screened it again... but Mayhem dare to screen the ghost story classic and talk to the great man himself.
Other guests at the festival include:
Richard Stanley who made Dust Devil and Hardware and is here to screen amazing new anthology THE THEATRE BIZARRE on Thursday 27th October.
Sean Hogan who joins us on Friday 28th to screen the remarkable independent British feature THE DEVIL'S BUSINESS which wowed the audience at this years FRIGHTFEST, in London.
And this year we are working with the amazing THRILL LABORATORY to create a LIVE EXPERIMENT direct from a nearby genuinely haunted location, four volunteers will be monitored to see their response to see the effects of the supernatural on the human body and mind with a live-feed into Broadway cinema so that an audience can observe the results.
FULL LINE-UP, DATES and TIMES
Thurs 27th
9pm
BAFTA present THE AWAKENING Directed by Nick Murphy (UK) 2011
London, 1921, as the country turns to seances and spiritualism for solace from the war. Academic and writer Florence Cathcart (Rebecca Hall) is determined to prove that ghosts are not haunting a school. But once she starts investigating, she begins to uncover more secrets than she bargained for. Murphy's debut feature is a startlingly effective classic ghost story.
"The Awakening is for those who loved The Devil's Backbone and The Others.Collider.com
+ Special guests, writer and director Nick Murphy
These events form part of BAFTA'sUK-wide learning and events programme, giving audiences access behind the screens of the film, TV and video games industries. For more information and to sign up to our e-bulletin, go to
BAFTA: Home of the British Academy of Film and Television Arts
11.30pm
THEATRE BIZARRE Directors Richard Stanley, Douglas Buck, Buddy Giovinazzo, Tom Savini, David Gregory, Jeremy Kasten, Karim Hussain. (USA/FRANCE) 2011
Breathing new life into the anthology film with a series of stunningly effective tales from a terrific line-up of directors and a blend of brutal, bloody and brilliant stories - the most essential slice of genre cinema this year.
"One of the best horror anthology films not just recently, but in the history of the sub-genre." Dread Central
+ Special Guest director Richard Stanley
TRAILER:
Friday 28th
5.45pm
THE DEVIL'S BUSINESS Directed by Sean Hogan (UK) 2011
Two hitmen, Pinner (Billy Clarke) and Cully (Jack Gordon), arrive at the home of the man they've been despatched to kill and quickly discover signs of devil worship that reveal that they are in over their heads. Brilliantly performed this is a fantastic example of what can be done with a low budget and a lot of imagination.
"Incredibly strong... punches well above its weight.Empire
+ Q&A with producer Jennifer Handorf and director Sean Hogan.
7.45pm
THE WICKER TREE Directed by Robin Hardy (UK) 2010
Finally a spiritual follow-up from the creative genius behind the original film. Religions clash in this witty satire pitching Christian evangelists against a much older religion. More a satirical companion piece than a full blown sequel from the filmmaker who changed the face of British horror for good.
"A ferocious piece of camp... leavened with a tongue in cheek sense of humour... Amen.Twitch
+ Special Guest Robin Hardy.
TRAILER:
10pm
THRILL LABORATORY PRESENT THE EXPERIMENT LIVE
(FREE)
Mayhem welcome back Dr Brendan Dare.
Using biomonitoring, a group of scientists study 4 Subjects hoping to capture the effect that experiencing a real haunted building might have on the human body and mind. With a live-feed into Broadway cinema from a genuinely haunted location you are invited to observe and discuss this remarkable experiment.
11pm
HELLDRIVER directed by Yoshihiro Nishimura (Japan) 2010
From the team behind Tokyo Gore Police - following a collision with an asteroid and faced with the subsequent, inevitable, zombie outbreak, Japan is divided by a wall to keep the infected out but for how long!? Only Kika and her chainsaw-sword can save us.
"The gore is completely insane." Twitch
TRAILER:
Saturday 29th
12pm
THE WHISPERER IN DARKNESS Directed by Sean Branney (USA) 2011 (100mins)
A sceptic journeys into danger attempting to disprove aliens in the first talking picture from The HP Lovecraft Historical Society. Yes, their first talkie! A stunningly authentic homage to the hey day of Hollywood monster movies and filmed entirely in Mythoscope.
"The single most successful H.P. Lovecraft adaptation ever to lick fear across a screen." Bloody Disgusting.
TRAILER:
2pm
A HORRIBLE WAY TO DIE Directed by Adam Wingard (USA) 2010 (85mins)
Grim and totally gripping, as emotionally draining as HENRY: PORTRAIT OF A SERIAL KILLER. House of the Devil's A.J. Bowen is the unassuming serial killer making his murderous way across the Midwest drawing nearer to Amy Seimetz (Wristcutters) who struggles to rebuild her own life.
"Extremely disturbing. What an incredible film.Dread Central.
TRAILER:
4pm
SAINT Directed by Dick Mass (Netherlands) 2011
Santa Claus is coming to town and legendary director Maas (Amsterdamned) sets Xmas goodwill back centuries with this gore soaked comic tale of St. Nick bringing death and destruction to the children of Amsterdam with a squad of charred zombies. Hilarious, bloodthirsty mayhem ensues.
"Impressively gory." Twitch
TRAILER:
6.30pm
REVENGE: A LOVE STORY Directed by Ching-Po Wong (HK) 2010
From the squirm inducing opening twenty minutes to it's stylised climax this is a ferociously slick, sick serial killer flick, daring to ask what motivates a madman who targets the pregnant wives of cops. Unflinchingly brutal, from the team behind DREAM HOME.
Terracotta Distribution
"Grindhouse outrage... for those with strong stomachs, pushing the rating to its limits." Beyond Hollywood
TRAILER:
8.3om
SCARY SHORTS International.
A special selection of the best new short films from the fear makers of the future. From lobster men on horse back to killer bananas - an unmissable line-up of gore, threat, laughs and total horror.
11pm
THEATRE OF BLOOD Douglas Hickox (UK) 1973
A mad Shakespearean actor takes bloody revenge on the critics who gave him bad reviews using the plays of the immortal bard as inspiration for his horrific punishments. Vincent Price is at his best and you can also learn a lot about old plays without having to do any reading.
"Serving up its butchered victims with the gusto of a gourmet chef crafting a fine meal." Cinefantastique
TRAILER:
Sunday 30th
12pm
TOMIE: UNLIMITED Directed by Noboru Iguchi (Japan) 2011
From the director of MACHINE GIRL and MUTANT GIRLS SQUAD comes the revival of the weirdest series in Japanese cult cinema. Meet Tomie - everyone who loves her wants to kill her, but she just won't die. Featuring the oddest centipedes to grace the horror movie screen in quite some time.
"Creepy J-Horror Returns." Bloody Disgusting
TRAILER:
1.45pm
EYES WITHOUT A FACE Georges Franju (France) 1960
From the writers of VERTIGO and LES DIABOLIQUES, EYES is as defining and influential as the films released that same year: PSYCHO and PEEPING TOM. A surgically precise and surreal exercise in terror that informed Almodovar's recent THE SKIN I LIVE IN, it still shocks today.
"Sharp as a scalpel, soft as a caress, this is a weird masterwork." Empire
TRAILER:
3.30pm
LITTLE DEATHS Directors Sean Hogan, Andrew Parkinson, Simon Rumley (UK) 2010
An impressive line-up of exciting independent British directors at the helm of three shocking stories of sex, perversity and horror. Hogan (THE DEVIL'S BUSINESS), Parkinson (I, ZOMBIE) and Rumley (RED, WHITE & BLUE) have crafted features from the cutting edge of underground cinema.
"Compelling... embraces taboo fearlessly." Brutal As Hell
TRAILER:
6.45pm
GHOSTWATCH Directed by Lesley Manning written by Stephen Volk (UK) 1992
A remarkable achievement in broadcasting, way ahead of it's time, Ghostwatch is gripping, slowly building tension as a TV crew camp out live in a suburban house... haunted by an unsettling spirit named Pipes. One of the most influential and controversial television dramas ever screened.
+ screenwriter, Stephen Volk, writer of THE AWAKENING, in person to talk about making GHOSTWATCH as well as how to go about 'making' a ghost.
"A supernatural TV Landmark." SFX
"Genius." Mark Gatiss
TRAILER:
9pm
THE LAST EMPLOYEE Directed by Alexander Adolph (Germany) 2010
A troubled lawyer finds himself unable to deal with the last employee of a company he has liquidated - she just doesn't seem to want to leave. Creepily atmospheric in the vein of The Grudge and Dark Water, the chills give way to shock and moments of spectacular gore.
"This is how to do modern supernatural horror right... extremely eerie." Quiet Earth
10.30pm
THE QUIZ OF FEAR Yes The Flinterrogation is back David Flint, horror expert and cult cinema connoisseur has concocted another brain burstingly challenging quiz and we have great prizes for the winning team.
MONDAY 31st October
8pm
FREE GHOST STORIES FOR HALLOWEEN
Cafe Bar A Halloween treat for all fans of supernatural storytelling. Leading horror author Niki Valentine hosts an evening of haunting tales and live readings as well as a series of screenings of cult television ghost stories including Tom Baker reading THE EMISSARY by Ray Bradbury from LATE NIGHT STORIES, from CLASSIC GHOST STORIES, BY M.R. JAMES, THE MEZZOTINT read by Robert Powell and from CHRISTOPHER LEE'S GHOST STORIES FOR CHRISTMAS, the good man himself reading THE ASH TREE. (FREE)
Events across the whole weekend:
Saturday 29th October - PARTY in the Cafe Bar til late ham it up and celebrate the centenary of the great Vincent Price and down a few special festival ales in his honour. (FREE)
LASER MAZE from Hackspace. Join us downstairs in Broadway's studio for a fear filled fun house of ghosts and games in a unique environment. (FREE)
Keep up to date with the Mayhem Horror Film Fest via:
Twitter
Facebook
or via their official website
www.mayhemhorrorfest.co.uk
Find The Broadway cinema on
Google Maps
Remember, you can use this thread to discuss the festival. Have you been to Mayhem before? Are you planning to go? Do you have any questions?