01-02-2012, 11:00 AM
Grindhouse Project Co-ordinator

Join Date: Jun 2009

Location: Preston
3rd February 2012 HELLFIRE VIDEO CLUB: COBURNCABANA Cube Cinema - Bristol
---
Hellfire Video Club: Coburncabana



Date: 03/02/2012
Time: 20:00
Location: Cube Cinema – Bristol

Hellfire Video Club Presents:

For the first Hellfire video Club of 2012 they'll be smuggling in a double-agent double-bill of far-out espionage, featuring swinging sixties spies, groovy intrigue, and covert comedy, starring old 'long teeth' himself - James Coburn.

The main feature is "The President's Analyst" (1967), a criminally overlooked groovy satire starring Coburn as Sidney Schaefer, a psychiatrist who is hired to be the titular President's analyst. The problems surface when Schaefer begins to crack under the stress of holding all this highly top-secret information, and a brilliant mess of screwball comedy and political satire ensues. This is classic stuff, with themes of privacy invasion that remain just as pertinent 44 years on!

This will be followed by a psychedelic pop-art heist movie, starring JC as a tanned hipster planning a multi-million pound robbery while partying the nights away in swinging Tangiers.

As always, the Hellfire DJs will be in the bar providing some musical
accompaniment. This time, expect to hear sixties soundtracks, swinging grooves, crime-jazz and fuzz!

Find the Cube Cinema on Google Maps

Remember you can use this thread to discuss the screening. Are you excited to see go to the Corburncabana event? Have you already seen it and can recommend it to other? Do you have any questions?

Watch the trailer for The Presidents Analyst below:



__________________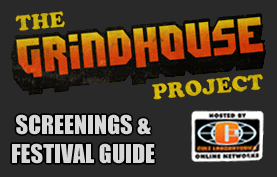 Follow The Grindhouse Project on Twitter!