02-16-2012, 12:35 PM
Grindhouse Project Co-ordinator

Join Date: Jun 2009

Location: Preston
28th March 2012 A LIZARD IN A WOMANS SKIN Prince Charles Cinema - London
---
A Lizard In A Woman's Skin (18)



Date: 28/03/2012
Time: 20:45
Location: Prince Charles Cinema – London

Cigarette Burns Cinema Presents:

A LIZARD IN A WOMAN'S SKIN

Many know Lucio Fulci's late 70s and 80s meandering through nonsensical, supernatural, zombie infested, gore filled, eye popping silliness, but before he became the drunken gore master, he was revered for his more sensible celluloid travels. Including one particularly celebrated giallo classic - 'A Lizard In A Womans Skin' Fulci still wallows in the dreamscape, but confined by murder mystery demands, is reigned in. Swinging Sixies London serves as the backdrop for Carol's nightmarish decent into madness as she slowly loses her mind when she finds herself blamed for the brutal murder of the lesbian party animal next door.

Cigarette Burns Cinema

Find The Prince Charles Cinema on Google Maps

Remember you can use this thread to discuss the screening. Are you excited to A Lizard In A Woman's Skin on the big screen? Have you already seen either and can recommend it to others? Do you have any questions?

Watch the trailers for A Lizard In A Woman's Skin below:




__________________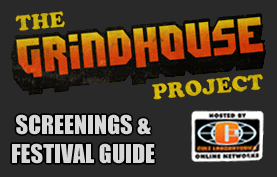 Follow The Grindhouse Project on Twitter!
---
Last edited by BioZombie; 02-17-2012 at

12:15 PM

.