05-10-2012, 12:49 PM
Grindhouse Project Co-ordinator

Join Date: Jun 2009

Location: Preston
Cult Screenings & Events in June 2012
---
Cult Screenings and Events in June 2012

Here is a list with links to all Cult Screenings that are happening in June 2012. Remember if you know of any other films being show that may be of interest to Cult-Labs members PM me asap!


Cult Film Screenings:

1st June 2012 AKIRA Cameo Picturehouse - Edinburgh details

4th June 2012 OLD BOY Picturehouse @ Fact -Liverpool details

9th June 2012 BATTLE ROYALE Everyman Screen On The Green - London details

11th June 2012 THEY LIVE & BIG TROUBLE IN LITTLE CHINA Prince Charles Cinema - London details

12th June 2012 PLAUGE OF THE ZOMBIES Stratford-upon-Avon Picturehouse details

15th June 2012 THE WARRIORS Electric Cinema - Birmingham details

15th June 2012 BRAIN DAMAGE Cube Cinema - Bristol details

16th June 2012 HELLRAISER Rio Cinema - London details

16th June 2012 THE OMEN The Crypt Mary Magdalene Church - London details

17th June 2012 HIGH PLAINS DRIFTER Cinema City - Norwich details

19th June 2012 RAZORBLADE SMILE The Basement Cinema @ The Globe - Brighton details

21st June 2012 PULP FICTION Regal Cinema - Evesham details

23rd June 2012 METROPOLIS Little Theatre Cinema - Bath details

28th June 2012 BATTLE ROYALE & TOKYO GORE POLICE Dancehouse Theatre Manchester details


Cult Film Festivals & Events:


3rd June 2012 CYBERSCHIZOID BIRTHDAY PARTY MONSTER MASH Roxy Bar and Screen - London details

15th - 17th June 2012 11TH FANTASTIC FILMS WEEKEND National Media Museum details

27th June 2012 DUKE MITCHELL FILM CLUB: YUEN CLAN NIGHT Kings Cross Social Club - London details

Come back as this page will be updated regularly.
__________________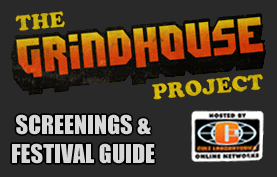 Follow The Grindhouse Project on Twitter!
---
Last edited by BioZombie; 06-17-2012 at

01:10 PM

.