dvd releases for 07/09/09
Posted 3rd September 2009 at 08:20 PM by
Kyle
---
sorry this is a bit late ive been really busy
Infestation
You Will Be Infected.
Our hero, Cooper, awakes to find himself nauseous, weak and covered in webbing, hanging from the ceiling of an office where, just minutes ago, he started his new job. As he struggles out of his slimy prison he comes face to face with his opponent - a grotesque, powerful and very angry bug. All 3 ft of it.
And so begins a hideous, nail-biting, comedic, all-action adventure to find a safe haven while constantly outwitting an infestation of monstrous proportions. As Cooper embarks on his journey, he befriends a ragtag group of survivors including Sara, a feisty attractive female. Although the situation is dire, Cooper can't help himself from trying to solve his dating problem while trying to save his life.
Will they make it to safety before they are picked off one by one? And what other surprises are in store for our group of unlikely heroes?
Director Kyle Rankin
Studio: Icon Home Entertainment
http://www.amazon.co.uk/Infestation-...2008256&sr=1-1
It's Alive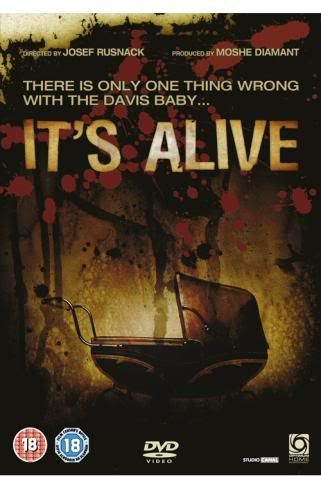 A remake of Larry Cohen's 1974 exploitation classic, IT'S ALIVE is the horrific tale of how the ordinary world of the Davis family is turned upside when it is revealed that their new arrival turns out to be a murderous mutant. The patter of tiny feet has never been so terrifying!
Director Josef Rusnack
Studio: Optimum Home Entertainment
http://www.amazon.co.uk/Its-Alive-DV...2008180&sr=1-1
Parasomnia
In "Parasomnia", a stylish horror/thriller film from director William Malone (House on Haunted Hill, Masters of Horror) Danny Sloan is looking for something solid in his life. After his girlfriend leaves him, he realizes that something is missing. Once he goes to visit a friend in rehab, he happens upon a beautiful girl, Laura Baxter, who is literally sleeping her life away. Suffering from a sleep disorder called Parasomnia, she has spent very precious time in an awakened state. Danny soon finds himself falling in love with Laura, but also finds himself at odds with another of the Laura's suitors. This fellow is a notorious criminal who seems to have the power to control another person by looking them in the eye. ....And you thought your love life was tough...
Director William Malone
Studio: E1 Entertainment
http://www.amazon.co.uk/Parasomnia-D...2008138&sr=1-1
Dororo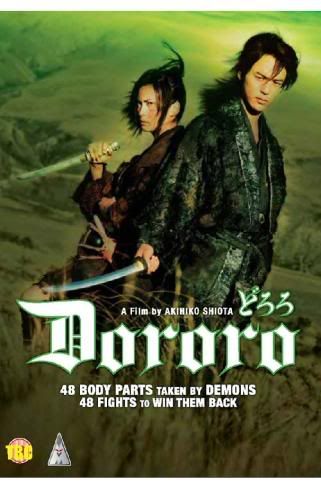 A young samurai partners with a female warrior to battle a series of demons in DORORO, an epic thriller based on a manga series by the legendary Osamu Tezuka. Together the hopeful fighters must slay 48 evil forces, recovering a body part from each defeated foe.
Director Akihiko Shiota
Studio: Mvm
http://www.amazon.co.uk/Dororo-DVD-K...2007975&sr=1-1
Kinky Killers
Kinky Killers is a sexy serial killer thriller with the perfect blend of homicide, gore and beautiful women. Patients of sexy psychiatrist Dr. Jill Kessey and clients of eccentric attourney Alexander Hathaway (Charles Durning - 2 time Academy Award© nominee*) are being murdered in bloody satanic rituals. Sex and mutilation are the signature of the serial killer, who likes to tattoo each of the victims after they are murdered. Beautiful professional women are the prey... or are they doing the preying?
From the mind of best-selling author Kenneth Del Vecchio, Kinky Killers is a hot, smart crime thriller that cleverly carves out seven murders, seven suspects-and seven churches of Revelation.
Director George Lekovic
Studio: High Fliers
http://www.amazon.co.uk/Kinky-Killer...2007946&sr=1-1
Horror Triple: The Children / WAZ / Rec (3 Disc)

Titles Comprised:
The Children:New Years Eve, and two families are gathering together to celebrate the holiday.
What begins as a relaxing vacation for Elaine and Jonah turns suddenly into a vicious fight for their lives when the children mysteriously begin to take ill and lash out. This terrifying new horror pits a family against itself as the kids turn on their parents with horrifying consequences.
WAZ: Would you kill the one you love to save yourself from death?
In Waz bodies are turning up in the city streets - some horribly mutilated, others with an equation craved into their flesh. Detective Argo (Skarsgard) and his new partner (George) unearth the meaning of the equations, only to realise that each victim is being offered a grusome choice: kill your loved ones or be killed...
REC:A team of local TV reporters are following a squad of firemen on night duty. The footage is completely live and their task is to make show about on the life of these professionals who work while we are sleeping. The first job of the night is to rescue an old lady who is trapped inside her apartment but the routine rescue soon takes a sinister turn. Something evil is spreading throughout the building, out of control. Trapped inside, the firemen and the TV crew have to confront an unknown and lethal horror. Now, the only thing that matters is hiding, surviving and trying desperately to escape. They must keep on recording. No matter what happens. Until the very last moment.
Director's Tom Shankland, Jaume Balagueró & Paco Plaza
Studio: E1 Entertainment
http://www.amazon.co.uk/Horror-Tripl...2007850&sr=8-1
Fermat's Room (aka: La Habitación De Fermat)
Four mathematicians who have never met before are invited by a mysterious host to spend a weekend in an abandoned house, to try and solve a great numerical enigma.
However, they soon realise that each time they fail to solve a puzzle the room they are in starts to shrink. Unless they quickly find out why someone is trying to murder them all, they will soon be crushed to death.
Director Luis Piedrahita & Rodrigo Sopeña
Studio: Revolver Entertainment
http://www.amazon.co.uk/Fermats-Room...2007900&sr=1-1
Views
4623
Comments
10
Comments
Trackbacks