dvd releases for 28/09/09
Posted 23rd September 2009 at 11:39 AM by
Kyle
---
Tormented
A sexy, scary high school horror movie that smells like teen spirit... with a hint of rotting flesh!
From classrooms and cafeterias, to school ties and pool parties, teenage traumas full of promise, pimples and panic get a terrifying makeover as the best days of your life become your worst nightmare.
Director Jon Wright
Studio: 20th Century Fox Home Entertainment
http://www.amazon.co.uk/Tormented-DV...703908&sr=1-17
An American Werewolf In London: Special Edition (2 Discs)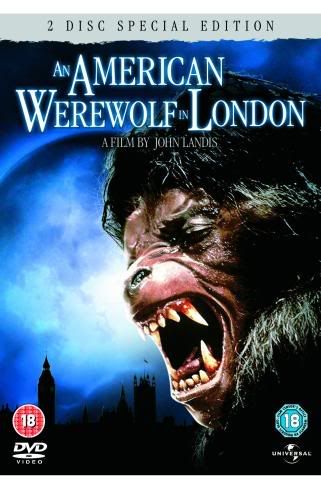 One of the most gripping horror films of all time is now available in a new 2 disc DVD Special Edition! When two American students touring the English countryside are attacked by a vicious wolf during a full moon, their lives are suddenly transformed forever.
Featuring ground-breaking Academy AwardŽ-winning make-up by Rick Baker, this cult favourite is directed by John Landis (National Lampoon's Animal House) and perfectly blends the macabre with a touch of humour.
Digitally remastered and loaded with bonus features including an all-new feature-length retrospective documentary, An American Werewolf in London Special Edition is a timeless story that has never looked better!
Director John Landis
Studio: Universal Pictures UK
http://www.amazon.co.uk/American-Wer...704081&sr=1-67
Wasting Away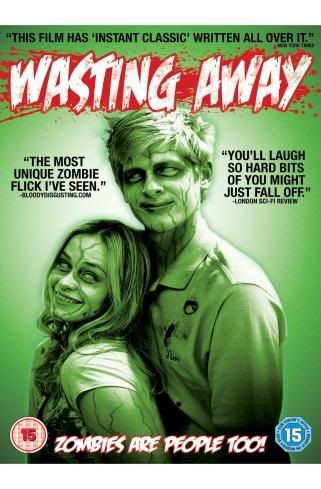 When a military bio-weapons truck is involved in an accident, its top secret cargo of toxic green goo finds its way into the self-serve ice cream at a bowling alley. And when four friends enjoy luminous green sundaes, they are transformed into the Walking Dead with a craving for brains!
The world looks very different through their eyes as zombies, and it seems like everyone else has gone mad. Confused, scared and convinced they're the only sane ones in a sea of infected humans, the friends struggle to set things right.
In their search for the 'truth', they may be completely unaware of their rotting un-deadness, but, they do find that life only begins at death...
Director Matthew Kohnen
Studio: Spirit Entertainment Ltd
http://www.amazon.co.uk/Wasting-Away...704006&sr=1-46

Dying breed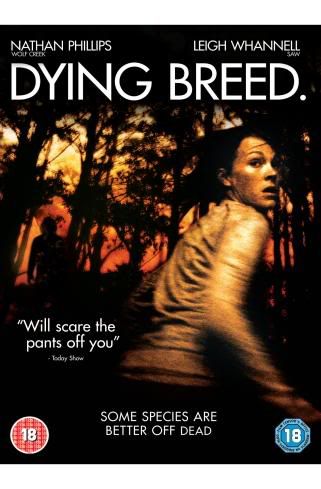 Tasmania, Australia, the world's most isolated island.
It's rumoured deep within Tasmania's wilderness an ancient species known as the Tasmanian tiger is alive and breeding. Yet modern science refuses to believe such a creature now exists since no witnesses have ever been able to prove it. That is, until zoology student, Nina, claims she can breach Tasmania's impenetrable forests and reveal the tiger's existance to be true. Driving Nina's quest is one critical piece of proof: a paw print taken by her sister just before she met with a fatal accident eight years ago.
But what Nina doesn't know is how Tasmania became Australia and the world's most dangerous island in the 19th Century when the murderous convict Alexander Pearce (aka "The Pieman") broke out of prison only to eat his fellow escapees. Pearce was hung for cannabalism in 1824, but not before he has spawned a blood line who inherited his taste for human flesh.
Soon Nina and her friends discover that in the wild whilst one species may have died out another has thrived - in the form of Pieman's descendants. When she sets out with her partner, Matt, and his old mate, Jack, and his girlfriend, Rebecca, their little expedition encounters the island's reigning breed, but one who stands on two legs, not four.
The Pieman clan has survived and their need to feed and breed turns Nina, Matt, Jack and Rebecca into the next endangered species.
Director Jody Dwyer
Studio: Dnc Entertainment
http://www.amazon.co.uk/Dying-Breed-...704224&sr=1-91
Amsterdamned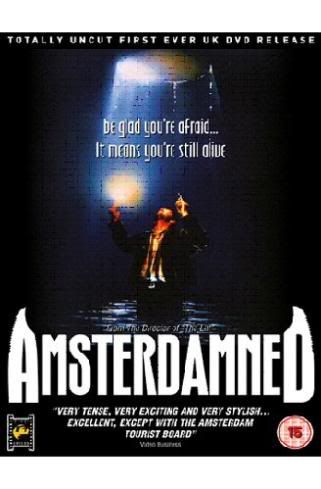 When the brutally mutilated body of a hooker is discovered suspended from a bridge in the heart of Amsterdam's popular tourist district the city's police fear the worst. Within days further murders confirm their suspicions - a serial killer is on the loose and is using the vast network of canals to traverse the city before dragging unsuspecting victims to their watery graves and escaping detection by hiding in the darkness beneath the surface.
Fearing an outbreak of mass hysteria and a serious blow to the tourist trade should the news break to the public, the mayor demands swift action from the authorities. The police respond by assigning their best man, Detective Visser (Hube Stapel), to the case. Figuring the killer must be someone with scuba diving experience, Visser begins his investigation at the city's principal sub-aqua club where he meets and befriends an attractive woman diver, Laura (Monique van de Ven), and her therapist, who was also once a diving enthusiast. Meanwhile, as the body count begins to rise, Visser's adolescent daughter and her school friend have unwisely decided to try and track down the killer themselves.
Director Dick Maas
Studio: Nouveaux Pictures
http://www.amazon.co.uk/Amsterdamned...704136&sr=1-81
Army Of The Dead
When a professor and his students set out to do some archeological fieldwork, they had no idea what was waiting for them. Their aim was innocent enough, but once their picks hit the dirt they unwittingly unleashed an army of dead warriors. But who are these walking skeletons and why are they so angry? Could these be the same men who disappeared back in 1590 while searching for the lost city of gold? Either way, now that they're awake, they're angry and looking for flesh to carve up. This is one university field trip these students wish they'd never taken.
Director Joseph Conti
Studio: Final Cut Entertainment
http://www.amazon.co.uk/Army-Dead-DV...704224&sr=1-95
Ghostwood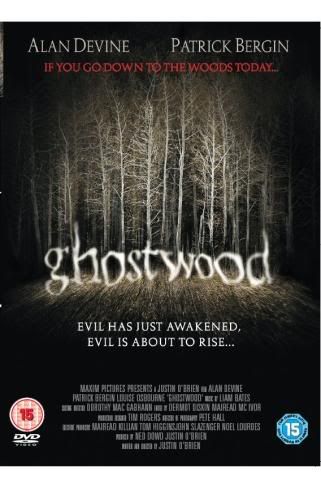 Driven to investigate the mysterious disappearance of his father, New York psychologist Ed Hunter, (Alan Devine - King Arthur The Tudors)travels to a remote village in the West of Ireland and finds a community that has been living in fear for centuries.He meets a mysterious girl, (Louise Osbourne - The Osbournes) who tells him his father had been searching for the spirits of a mother and child who were buried alive in the nearby forest over 1000 years ago.His father's friend, the local priest, (Patrick Bergen - Sleeping With The Enemy, Patriot Games) holds all the answers but has locked himself in his church for fear of his life.
Director Justin O'Brien
Studio: Final Cut
http://www.amazon.co.uk/Ghostwood-DV...704136&sr=1-76
Mr. Halloween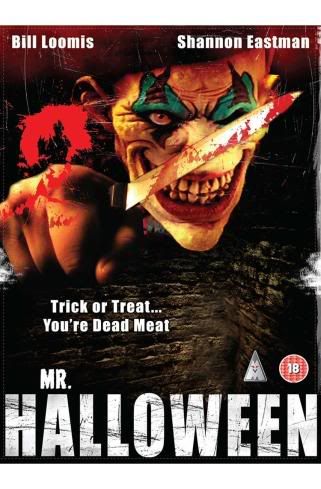 In this creepy horror feature set in rural upstate New York, a local sheriff and a curious local teen get in over their heads when they decide to explore the local myth about a nearby haunted house. Believing the man who owns the house is killing people and using their bodies as props, the two makeshift detectives foolishly put themselves at risk.
Director Andrew Wolf
Studio: Mvm
http://www.amazon.co.uk/Mr-Halloween...04349&sr=1-111
Dr. Chopper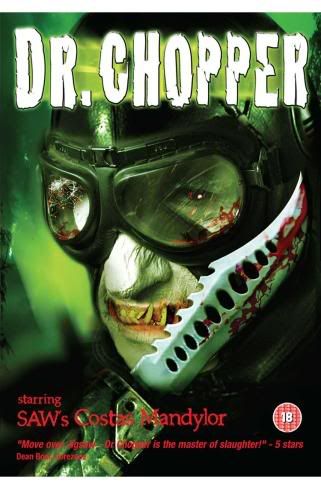 Lewis Schoenbrun's DR. CHOPPER has a pleasingly twisted premise which opens as many a horror movie has. A group of five young people travel to a family cabin on the shore of a beautiful lake, where they plan to spend a weekend of partying and fun. But a dangerous killer is on the loose, and he's out for blood--and body parts. Decades ago, Dr. Chopper and his crew of motorcycle-riding nurses began using their surgical skills to steal the body parts they need to keep themselves alive and beautiful. But after innumerable transplants, beauty is a thing of the past, and these horrible creatures require victims in order to stay alive. Gruesome, demented, and driven by maniacal glee, the Doctor launches his attack to harvest the body parts of isolated college kids.
Director Lewis Schoenbrun
Studio: Mvm
http://www.amazon.co.uk/Dr-Chopper-D...04564&sr=1-190
Views
2825
Comments
2
Comments
Posted 23rd September 2009 at 06:04 PM by

Kyle
Trackbacks