dvd releases for 05/10/09
Posted 28th September 2009 at 04:10 PM by
Kyle
---
Pig Hunt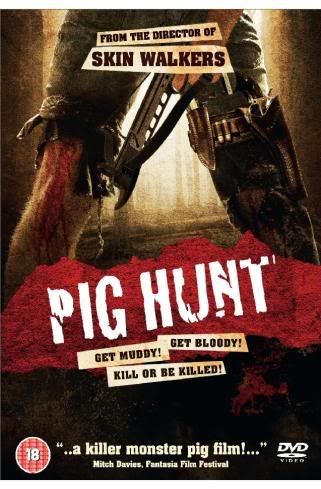 When John (Aaron Wade - Jekyll /The Fix) takes some friends to his deceased Uncle's remote ranch to hunt wild pigs, it seems like a typical guy's weekend.
But as John and his crew track deeper into the forest, they begin learning the awful truth about his Uncle's demise and the legend of the 'Ripper' - a murderous three-thousand-pound black boar -Their trip suddenly becomes a matter of Kill or be killed!
Their pursuit leads them through fields of marijuana and into the muddy landscape of Big Wallow, where they meet bizarre characters like the violent and unpredictable Tibba Brothers, a crazy preacher (Les Claypool from Primus) a machete-toting hippy stranger, vengeful rednecks, and a mysterious cult of girls who worship the giant killer pig.
An action packed creature feature of epic proportions - Get Muddy. Get Bloody. Kill or Be Killed. The Pig Hunt is on!
Director James Isaac
Studio: Momentum Pictures
http://www.amazon.co.uk/Pig-Hunt-DVD...149726&sr=1-17
Rogue
An idyllic cruise disintegrates into terror when a party of tourists are stalked by a massive man-eating crocodile.
Director Greg McLean
Studio: Icon Home Entertainment
http://www.amazon.co.uk/Rogue-DVD-Jo...149854&sr=1-34
Necromentia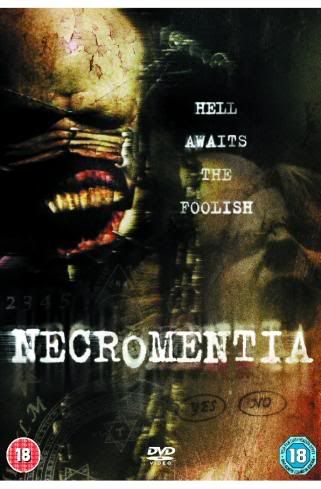 Inspired by the work of Clive Barker, Necromentia tells the story of what happens when you meddle with superstition and try to cross into another dimension using the powers of an Ouija board.
Hagan has a dead wife and believes he can bring her back to life. Travis is a man who lost his brother and wants to join him in the afterlife, and Morbius has been betrayed by those he loves and wants to come back from the dead to take revenge. A strange man only known as Mr Skinny protects the secrets of the powerful Ouija board, as all cross the gateways of hell to fulfil their own purpose, facing the hideous monstrosities that reside there as they go.
Director Pearry Reginald Teo
Studio: Momentum Pictures
http://www.amazon.co.uk/Necromentia-...149726&sr=1-13
Walled In
In 1993, sixteen bodies were found entombed within the Malestrazza Building, a mysterious apartment complex built by one of the world's most renowned, yet eccentric, architects. The killer was never caught. Fifteen years later, newly graduated structural engineer Sam Walczak (Mischa Barton of The O.C.) arrives to prepare the site for demolition. But this massive concrete crypt is not entirely empty: Its halls are lined with secrets. Its rooms are filled with fear. And behind its walls, the ultimate horror has lay waiting....until now.
Director Gilles Paquet-Brenner
Studio: Momentum Pictures
http://www.amazon.co.uk/Walled-DVD-M...149949&sr=1-37

Autopsy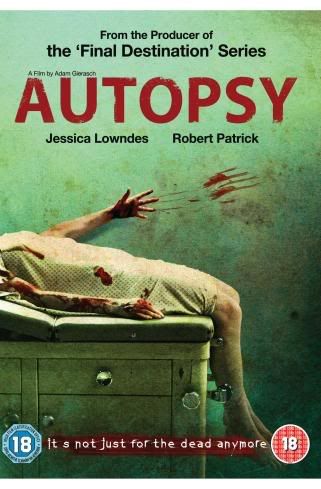 A group of friends are out at a concert when one of them is hit by a bottle - before help can be called an ambulance arrives and takes them to hospital. However this is no ordinary hospital and soon the friends find themselves in a terrifying race to find their injured buddy... before its too late.
Director Adam Gierasch
Studio: High Fliers
http://www.amazon.co.uk/Autopsy-DVD-...149854&sr=1-25
Surviving Evil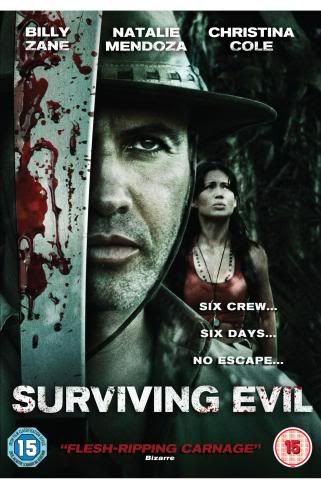 SIX DAYS...SIX NIGHTS...NO ESCAPE...
A British documentary crew arrive at a remote Philippines island to shoot a jungle survival special.
Soon the crew witness violent movement through the trees, accompanied by eerie cries and dark figures whipping through the canopy. The crew are unnerved, but determined to finish the job; they send their Filipino guides Joey (Joel Torre) and Chill (Natalie Mendoza - The Descent) into the jungle to seek answers from the native Isarog tribe. However, all they find are dozens of half-eaten corpses.
Presenter and survival-skills expert, Seb (Billy Zane - Titanic, Dead Calm) has survived every type of natural threat. But, deep within the primeval jungle and at the mercy of horrifying, shape-changing creatures with a thirst for blood, can he find away to protect the team and escape with his life?
Director Terence Daw
Studio: Spirit Entertainment
http://www.amazon.co.uk/Surviving-Ev...149949&sr=1-39

Summer Scars
A gang of delinquents ditch school to hang out in the woods where some hot rodding on a stolen moped changes the fate of their day. They crash into Peter, a dishevelled drifter, who is delighted to have a group of teens to hang out with. First he gains their trust by joining in their games, but then his behaviour begins to change. Peter uses what he has learned about the kids against them, bullying the alpha boys, belittling the weaker ones and saving his worst for the only girl of the group. Realising too late that they are being held hostage the kids have to resort to dirtier games to survive the ordeal.
Director Julian Richards
Studio: Soda Pictures
http://www.amazon.co.uk/Summer-Scars...149949&sr=1-45
Zombie Flesh Eaters Boxset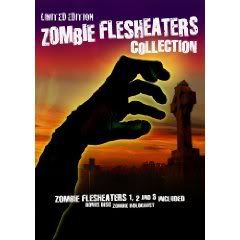 This collection brings together all three films in the ZOMBIE FLESH EATERS series, including the seminal original, directed by the godfather of gore, Lucio Fulci (THE BEYOND, NEW YORK RIPPER) and starring Tisa Farrow and Ian McCulloch. Also includes a bonus feature, ZOMBIE HOLOCAUST, directed by Franco Girolami (SPECIAL COP IN ACTION, VIOLENT ROME).
Studio: Cornerstone Media
http://www.amazon.co.uk/Zombie-Flesh...150126&sr=1-52
Vinyan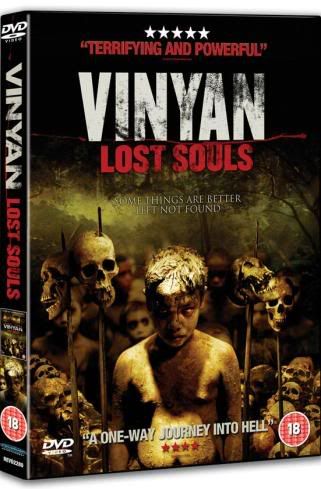 Parents looking for a missing child are led into a strange and dangerous netherworld in this thriller.
Jeanne (Emmanuelle Beart) and Paul (Rufus Sewell) are a wealthy couple who were in Thailand helping to establish an orphanage when the 2005 tsunami leveled the island. Jeanne and Paul had a young son who disappeared in the storm, and since his body has never been found, Jeanne holds out hope that he might still be alive, a hope that becomes a desperate concern when she sees a video of children being held by kidnappers in Burma which shows a child who looks like her boy.
Eager to find out the truth, Paul pays a hefty fee to local outlaw Mr. Gao (Petch Osathanugrah) to escort him and Jeanne into a forbidden zone known only to Thailand's criminal underclass near the Burmese border. Jeanne and Paul soon find themselves out of their depth in a strange land they do not understand where dangerous men commune with the spirits of the dead.
Director Fabrice Du Welz
Studio: Revolver Entertainment
http://www.amazon.co.uk/Vinyan-DVD-J...149726&sr=1-19

Der Golem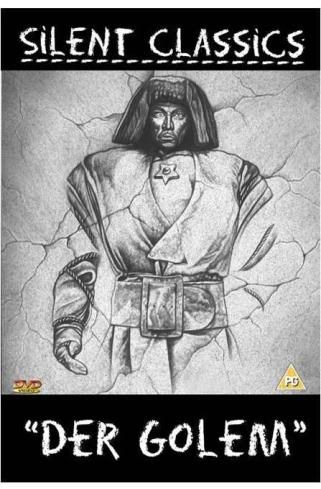 In this version of the golem legend, the golem, a clay statue brought to life by Rabbi Loew in 16th century Prague to save the Jews from the ongoing brutal persecution by the city's rulers, is found in the rubble of an old synagogue in the 20th century. Brought to life by an antique dealer, the golem is used as a menial servant. Eventually falling in love with the dealer's wife, it goes on a murderous rampage when its love for her goes unanswered.
Director Henrik Galeen & Gustav Meyrink
Studio: Cornerstone Media
http://www.amazon.co.uk/Golem-DVD-Pa...150324&sr=1-69

Nosferatu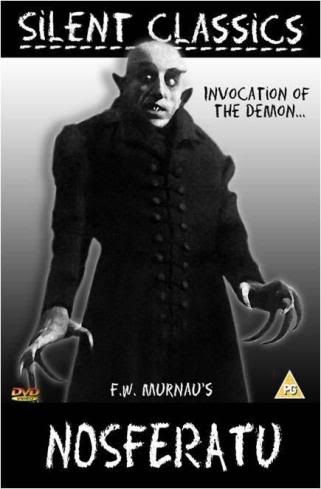 Count Orlok's move to Wisburg and brings the plague, this reveals his connection to the Realtor Thomas Hutter, and the Count's obsession with Hutter's wife, Ellen - the only one with the power to end the evil.
Director F W Murnau
Studio: Cornerstone Media
http://www.amazon.co.uk/Nosferatu-DV...150772&sr=1-80

Deadly Spawn
In a remote part of New England a meteorite falls from the sky. Two teenagers investigate it and find a deadly spawn - a grisly alien being, that quickly disposes of them before setting off in search of more food...
Director Douglas McKeown
Studio: Cornerstone Media
http://www.amazon.co.uk/Deadly-Spawn...150324&sr=1-66
Ghosthouse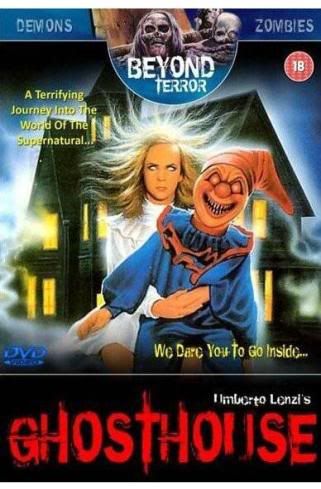 A radio enthusiast and his girlfriend travel to an old deserted house to investigate strange transmissions they received through their ham radio. They encounter a group of campers who are spending the weekend on the estate, and strange things begin to happen, including the appearance of the ghost of a little girl and her eerie clown doll.
Director Umberto Lenzi
Studio: Cornerstone Media
http://www.amazon.co.uk/Ghosthouse-D...150324&sr=1-65
Rats
2225 A.D. The discovery of a city which has food and uncontaminated water in plenty and no-one to fight or kill for is paradise to the survivors of a nuclear war... until they learn of the killer rats...
Director Vincent Dawn
Studio: Cornerstone Media
http://www.amazon.co.uk/Rats-Beyond-...150889&sr=1-96
Eaten Alive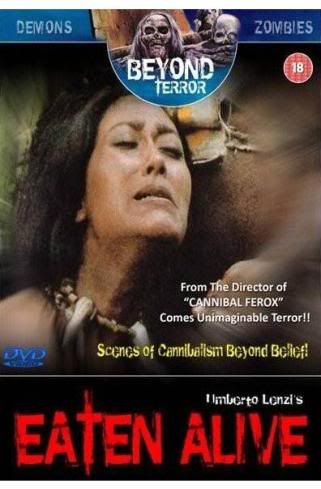 Umberto Lenzi (CANNIBAL FEROX) directed this atrocious cannibal/religious cult exploitation feature that has become a cult favorite for its awful dialogue, countless scenes of unintentional comedy, copious gore, and a wealth of footage lifted from other cannibal films.
Filmed not long after the Jonestown tragedy in Guyana, director Lenzi tries his hand at topicality by having the film revolve around an insane religious leader named Jonas who has taken a small cult of people from America and moved them into a camp in New Guinea that is located right in the middle of cannibal country. When a woman named Diana sends her sister Sheila mysterious footage of an apparently cannibalistic ritual taking place at the camp, Sheila becomes determined to rescue her. Arriving in New Guinea, Sheila hires an ex-G.I. to help her put together an expedition to the camp with the intention of forcibly removing Diana.
Director Umberto Lenzi
Studio: Cornerstone Media
http://www.amazon.co.uk/Eaten-Alive-...150772&sr=1-74
Spookies
A black comedy, set in a derelict mansion, where the living dead are set to rise again looking for human sacrifices.
Director Eugene Joseph
Studio: Cornerstone Media
http://www.amazon.co.uk/Spookies-Bey...150772&sr=1-73

Euro Killers Triple Pack: Man Bites Dog/H6/Tattoo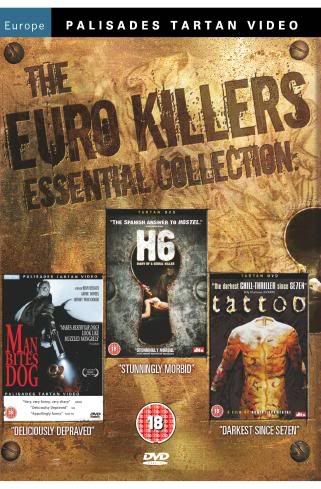 One of the darkest satirical mockumentaries ever, coupled with two from the New Wave Of European Horror - a box set to instill fear and disgust in you at Halloween!
http://www.amazon.co.uk/Euro-Killers...4152512&sr=8-4
Tremors 2 - Aftershocks
When a remote Mexican oilfield comes down with a nasty case of Graboids (for the uninitiated: giant carnivorous worms with tunnelling abilities that put Bugs Bunny to shame), it is up to those veteran monster exterminators Burt and Earl to save the day--and accumulate some much-needed payola in the process. But this time, the slimy critters may have a few new tricks up their ... um, sleeves. Although denied a chance to appear in the cinema, this unjustly neglected direct-to-video sequel delivers the same winning mixture of cornpone and gore that made the original Tremors a cult classic. Although Kevin Bacon is missing, Michael Gross and the wonderful Fred Ward reprise their roles from the first film. A hoot-and-a-half for horror and SF fans, Tremors 2 has some genuine scares and a welcome sense of humour. The DVD, presented in 1.85:1 widescreen format, has trailers for both movies but no other extra features.
Directors: S.S. Wilson
Studio: Uca
http://www.amazon.co.uk/Tremors-2-Af...150466&sr=1-59
Tremors 3 - Back To Perfection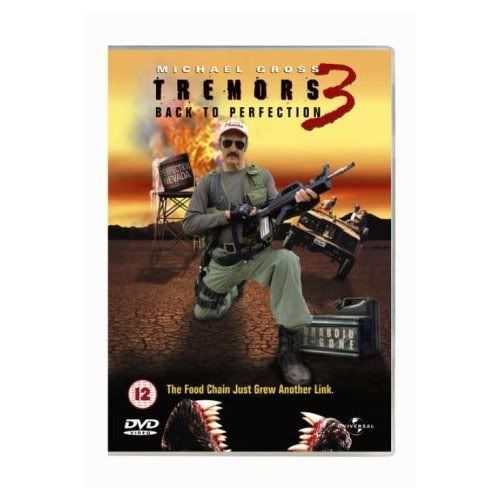 Burt Gummer has been away from home too long. Upon returning to Perfection, Nevada, he realizes that the town of terror has been turned into a tourist trap exploiting the town's reputation as the home of giant killer sand worms. When a simulated attack becomes the real thing, Gummer dons combat gear, loads of ammo and weaponry, and his Atlanta Hawks cap to go back into battle against the very creatures that originally drove him away. Not only does he have to deal with Graboids mutating into the frightening Shrieker monsters, but this time a new, possibly indestructible worm mutation is threatening. Michael Gross reprises his role as the gruff Gummer.
Directors: Brent Maddock
Studio: Uca
http://www.amazon.co.uk/Tremors-3-Ba...150690&sr=1-72
Views
4962
Comments
0
Comments
Trackbacks