dvd releases for 02/11/09
Posted 26th October 2009 at 06:21 PM by
Kyle
---
this week we have 2 OTT sexy Asian films with Blood: The Last Vampire and Samurai Princess a re-release of an animated classic The Nightmare Before Christmas, 2 killer beast films yeti and grizzly park and more, all with links trailers and pics
Blood: The Last Vampire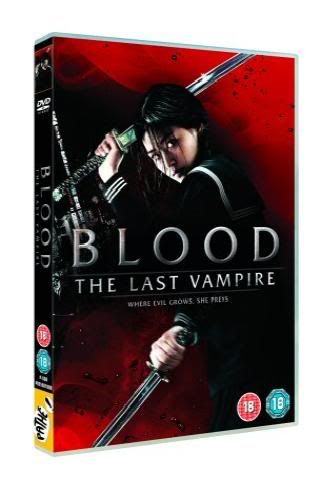 A vampire named Saya, who is part of covert government agency that hunts and destroys demons in a post-WWII Japan, is inserted in a military school to discover which one of her classmates is a demon is disguise.
Director: Chris Nahon
Studio: 20th Century Fox Home Entertainment
http://www.amazon.co.uk/Blood-Last-V...580442&sr=1-30
Samurai Princess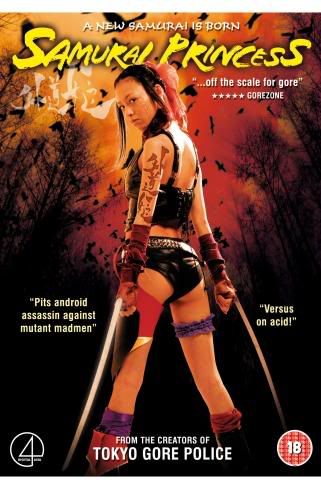 Kengo Kaji, who wrote Tokyo Gore Police, writes and directs this new genre-bending sci-fi/fantasy gore-fest from Japan. Yoshihiro Nishimura handles the special make-up effects, as he did for Tokyo Gore Police, Machine Girl and Vampire Girl vs Frankenstein Girl.
Samurai Princess pits android assassin against mutant madmen in an alternate universe version of feudal Japan. In this version of history, trainyard duels, detachable chainsaw limbs, and breast grenades are commonplace occurrences, while mad scientists twist the laws of nature to create sentient robots that can pass as human and crave souls.
Enter an android warrior with a penchant for bloodletting (AV starlet Aino Kishi) and her human partner (Dai Mizuno), whose eardrum-crushing electric guitar riffs are so loud, they're literally weapons of mass destruction. When our heroine is infused with the souls of eleven of her fallen sisters, she uses their combined power to take down anyone who stands in the way of her quest for humanity. The result is a nonstop geyser of gore, with skeletons popping out of torsos and every imaginable appendage removed from bodies!
Director: Kengo Kaji
Studio: 4Digital Asia
http://www.amazon.co.uk/Samurai-Prin...580506&sr=1-54
The Nightmare Before Christmas Combi Pack
Includes the movie on both Blu-ray and DVD!
Enter an extraordinary world filled with magic and wonder!
Jack Skellington, the Pumpkin King of Halloween Town, decides to spread Christmas joy to the world. But his well-meaning mission unwittingly puts Santa Claus in jeopardy and creates a nightmare for good little boys and girls everywhere! Who will save Christmas? This movie milestone from Tim Burton is a fun fantasy for the whole family!
Directors: Tim Burton
Studio: Walt Disney Studios Home Entertainm
http://www.amazon.co.uk/Nightmare-Be...580590&sr=1-81
Grizzly Park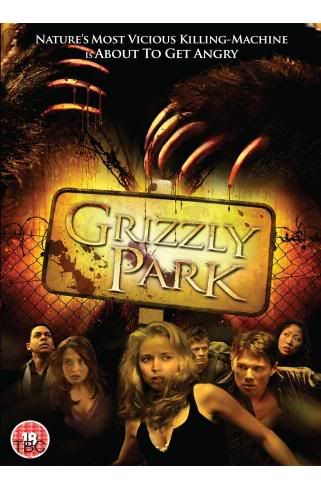 When a group of troubled teenagers get a weeks community service in a remote California forest called Grizzly Park, they get more than they bargained for.
Under the supervision of the stalwart Ranger Bob, their punishment is to clean up the park before it closes for the winter. However, they're also being stalked by an escaped serial killer with an insatiable bloodlust and a nine foot tall, thousand-pound and ravenous Grizzly Bear. Little do the group realise that as they confess their past, their future looks doomed!
As the group are stalked and attacked, one-by-one, the teens have to face the ultimate challenge... survival!

Director:
Tom Skull
Studio: Zab Digital Sales
http://www.amazon.co.uk/Grizzly-Park...80707&sr=1-120
Zombie Creeping Flesh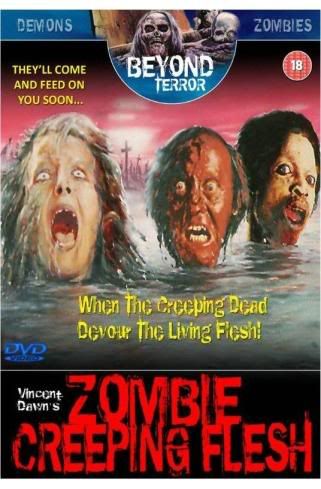 After a chemical leak at the Hope Centre in Papua New Guinea (an organisation devoted to feeding underdeveloped countries) turns its staff into flesh-eating zombies, a four-man commando squad led by Mike London are sent to investigate.
They run into a TV news crew led by celebrity reporter Lea, who are after the same story, but when they discover that the entire country has been overrun by zombies, what are the chances of them getting the message across? Unlike most zombie films, this actually tries to make a serious point - that if we don't feed the Third World, they'll come and feed on us!
Directors: Bruno Mattei;Claudio Fragasso
Studio: Cornerstone Media
http://www.amazon.co.uk/Zombie-Creep...80758&sr=1-126
Stage Fright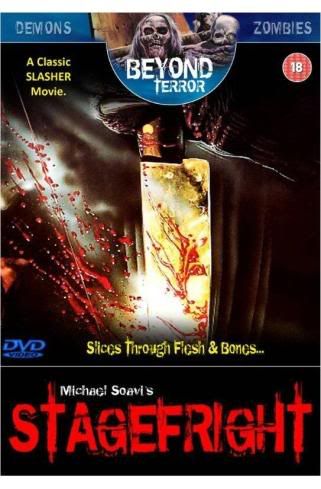 A troupe of struggling stage actors is rehearsing for a small-town production of a play. Everything seems to be as it should until one of the cast members turns up dead. In a panic, the others try to get out, only to find they are now locked in the theater with the killer! Which one of them committed the murder, and who will get out alive?
Directors: Michele Soavi
Studio: Cornerstone Media
http://www.amazon.co.uk/Stage-Fright...80814&sr=1-135
Ghost Story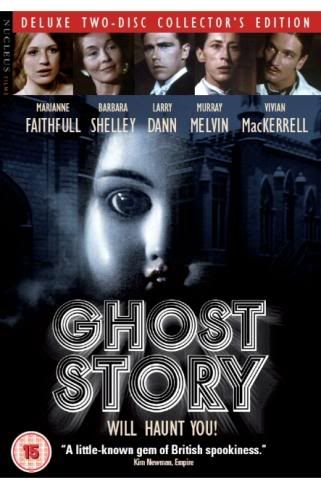 Revered, misunderstood and oft-discussed, Stephen Weeks' rarely seen 1974 dreamlike chiller is the absolute definition of a cult British Horror film. Set in 1920's England it tells of three former public schoolmates, Larry Dann (The Bill), Murray Melvin (The Devils) and the enigmatic Vivian Mackerrell (the inspiration for Bruce Robinson' s creation 'Withnail', seen here in his only major screen role), who reunite in a country mansion haunted by the spirit of insane former resident Marianne Faithfull (Girl On A Motorcycle). The haunting transports them to a surreal world of demonic dolls, sadistic doctors, incest and murder.
Hammer fans will see Barbara Shelley (Dracula Prince Of Darkness) and Leigh Lawson (Hammer House Of Horror), among the cast, 'cult TV' enthusiasts will recognise Anthony Bate (Tinker Tailor Soldier Spy, Beasts), and sitcom lovers will enjoy a cameo from Penelope Keith (The Good Life,To The Manor Born).
Director: Stephen Weeks
Studio: Nucleus Films
http://www.amazon.co.uk/Ghost-Story-...6582414&sr=1-1
Yeti
After their plane crashes into uncharted territory in the Himalayas, the survivors of a college football team set out to find help in the freezing cold.
As the days pass with no sight of rescue tensions grow high, the survivors wrestle with their consciences as they realise that in order to survive they must use the bodies of the dead as food. But it appears that something else is already feeding upon the dead.
But the survivors biggest danger is not hunger it is something far more sinister. Soon they realize that the legendary Yeti is real and is moving in for the kill. Can the survivors outsmart the beast or will they die trying?
Director: Paul Ziller
Studio: Zab Digital Sales
http://www.amazon.co.uk/Yeti-DVD-Pau...6582456&sr=1-1

Summer's Moon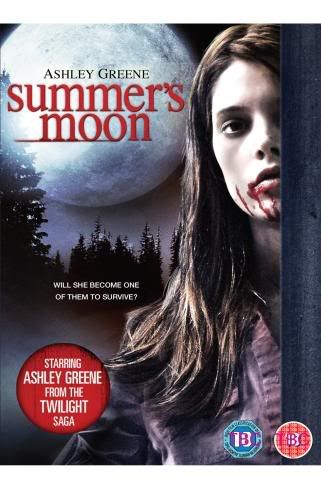 Eager to find her estranged father, Summer (Twilight's Ashley Greene) sets out on a cross-country journey of sorts when she encounters a slight run-in with the law. Much to her amazement, a local handyman rescues her. It's an unusual connection, but she is quickly charmed and accepts his invitation to spend the night. The following morning she is in for a rude awakening when he decides to change the rules of attraction by trapping her in his house. Taken prisoner in the demented strangers basement, her dream has come to a bitter end and her real-life nightmare has only just begun.
Summer's Moon is one of the most deranged, shocking and twisted family thrillers ever made...
Director: Lee Demarbre
Studio: Lions Gate Home Entertainment
http://www.amazon.co.uk/Summers-Moon...6582504&sr=1-1
Views
3739
Comments
2
Comments
Posted 28th October 2009 at 07:18 AM by

Kyle
Trackbacks