dvd releases for 07/12/09
Posted 3rd December 2009 at 10:16 PM by
Kyle
---
first up we have
Inglourious Basterds
, an awesome film! , some great looking
fulci
films and a spannish film ive never heard of before but im defo going to get hold of a copy!
then its not a bad week coming up especially if you love low budget films!
Inglourious Basterds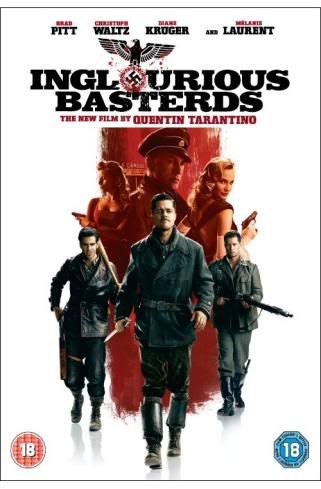 A WWII story so deranged it could only come from Quentin Tarantino! Mixing star turns from the likes of Brad Pitt with sweeping vistas and hyperkinetic, cartoonish violence, Inglourious Basterds is a loving ode to spaghetti westerns and trashy movies of yesteryear from a master filmmaker.
Inglourious Basterds begins in German-occupied France, where Shoshanna Dreyfus (Mélanie Laurent) witnesses the execution of her family at the hand of Nazi Colonel Hans Landa (Christoph Waltz). Shosanna narrowly escapes and flees to Paris, where she forges a new identity as the owner and operator of a cinema.
Elsewhere in Europe, Lieutenant Aldo Raine (Brad Pitt) organizes a group of Jewish soldiers to engage in targeted acts of retribution. Known to their enemy as "The Basterds," Raine's squad joins German actress and undercover agent Bridget Von Hammersmark (Diane Kruger) on a mission to take down the leaders of The Third Reich. Fates converge under a cinema marquee, where Shosanna is poised to carry out a revenge plan of her own...
Director Quentin Tarantino
Studio: Universal Pictures UK
http://www.amazon.co.uk/Inglourious-...9880365&sr=1-3
House Of Clocks
House Of Clocks is part of a four-part movie series made for Italian television under the umbrella title House of Doom. Legendary Italian horror maestros Umberto Lenzi and Lucio Fulci each contributed two films for the series: Lenzi made HOUSE OF LOST SOULS and HOUSE OF WITCHCRAFT, while Fulci offered HOUSE OF CLOCKS and SWEET HOUSE OF HORRORS.
One of Fulci's more obscure movies, his first contribution to the series centres on a group of young thugs, intent on robbery, who break into the home of a seemingly harmless couple with an antique clock collection. Though the elderly couple seem an easy target, the young toughs find themselves entering deeper and deeper into a terrifying nightmare after they murder the couple, whose clocks begin to turn back time for the thieves and exact a horrifying revenge on them. Playing out like a Lucio Fulci version of a TWILIGHT ZONE episode, HOUSE OF CLOCKS is sure to please fans of the gore auteur, who is recognized the world over as the sultan of splatter. Here, he creates a surprisingly surrealist story with plenty of atmosphere and originality.
Director Lucio Fulci
Studio: Cornerstone Media
http://www.amazon.co.uk/House-Clocks...80855&sr=1-182
The Sweet House Of Horrors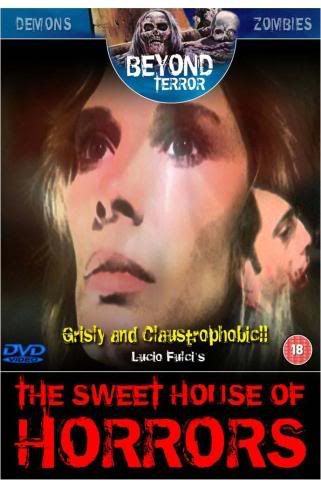 Fulci's second contribution to the series begins with a typically gory scene worthy of the director deemed "the sultan of splatter". A masked man breaks into a couple's home and brutally murders them in an extremely sadistic fashion, leaving their two children orphaned and haunted by the loss of their parents.
After this violent prologue, the film takes an unexpected turn into the realm of modern-day fairy tales as the grieving children conjure a supernatural force that brings their parents back to life. This tender yet desperate act results in disastrous consequences as the parents attempt to both comfort their children and exact revenge on their murderer. The Sweet House Of Horrors is a strange departure for Fulci, who creates an unusual mix of genres ranging from his trademark horror to some unexpected moments of comedy.
Director Lucio Fulci
Studio: Cornerstone Media
http://www.amazon.co.uk/Sweet-House-...80556&sr=1-104
Murder In A Blue World
Often described as 'the Spanish Clockwork Orange', this controversial shocker is set in a violent near future world. Honset citizens live in terror as gangs of leather clad, whip wielding sadists roam the night time streets. Meanwhile, in a top secret laboratory, strange mind control experiments are being conducted. Against this background a beautiful nurse tries to ease the pain of those condemed to die. But who really is this angel of mercy and what is the purpose of her mission?
Director Eloy de la Iglesia
Studio: Hb Films
http://www.amazon.co.uk/Murder-Blue-...80556&sr=1-100
sorry no trailer
10 Gore Films Collection (3 Discs)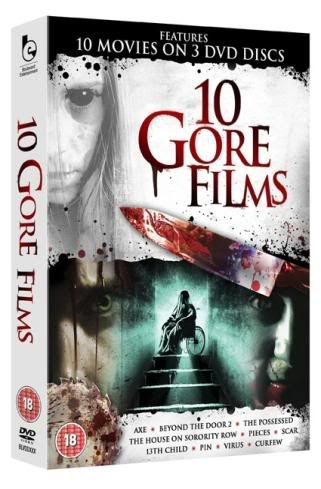 Pin
Beyond the Door 2
Scar
Axe
Curfew
Pieces
House on Sorority Row
virus
the possesed
13th Child

Studio: Boulevard Entertainment
http://www.amazon.co.uk/Gore-Horror-...80773&sr=1-142

10 Martial Arts Movies (3 Discs)
Fist Of Honor
Expect No Mercy
Back in Action
One Arm Hero
Expert
Talons Of The Eagle
Lethal Ninja
Guardian Angel
Tough & Deadly
Timecop
Studio: Boulevard Entertainment
http://www.amazon.co.uk/Martial-Arts...80800&sr=1-156
10 Creature Features Box Set: (3 Discs)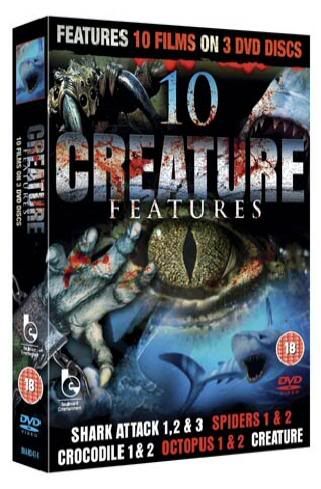 Spiders 1
Spiders 2
Creature
Octopus 1
Octopus 2
Shark Attack 1
Shark Attack 2
Shark Attack 3
Crocodile 1
Crocodile 2
Studio: Boulevard Entertainment
http://www.amazon.co.uk/Creature-Fea...880456&sr=1-64
Views
4457
Comments
9
Comments
Trackbacks