dvd releases for 14/12/09
Posted 9th December 2009 at 05:38 PM by
Kyle
---
there is not much released on the 14th really! just two lenzi films and two tartan boxsets, both containing great films
The House Of Lost Souls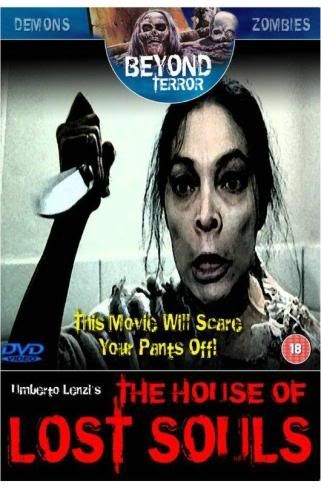 HOUSE OF LOST SOULS is part of a four-part movie series made for Italian television under the umbrella title House of Doom. Legendary Italian horror maestros Umberto Lenzi and Lucio Fulci each contributed two films for the series: Lenzi made HOUSE OF LOST SOULS and HOUSE OF WITCHCRAFT, while Fulci offered HOUSE OF CLOCKS and SWEET HOUSE OF HORRORS.
Lenzi's first contribution to the series centres on a group of young geologists who spend the night in an abandoned hotel haunted by the previous landlord's murders of his family and all the hotel's guests. The bloody past come back to life with eerie occurrences like ghostly cries of pain, the appearance of corpses and tarantulas, and blood dripping from the ceiling. Soon, the murders begin anew as the geologists are killed in bizarre and horrific ways, including one unlucky fellow who loses his head in a washing machine. Full of extreme gore and graphic bloodletting, HOUSE OF LOST SOULS reaffirms Lenzi's position as one of the kings of splatter films.
Director Umberto Lenzi
Studio: Cornerstone Media
http://www.amazon.co.uk/House-Lost-S...381733&sr=1-49
sorry no trailer
The House Of Witchcraft
Lenzi's second contribution to the series centres on a young man with a recurring nightmare in which he is running away from a pursuer and reaches the shelter of an old house, only to have an ugly old woman boil his head in a big kettle. Sensing his underlying stress and anxiety, his girlfriend suggests he take a relaxing holiday and the two drive to an old estate that belongs to her family.
The nightmarish chills become reality when the young man reaches the house and realizes it's the same one from his dream...Lenzi refrains from his usual gore and splatter style and instead delivers an almost old-fashioned story bathed in chilling atmosphere and classic Freudian fears of witchcraft and haunted houses.
Director Umberto Lenzi
Studio: Cornerstone Media
http://www.amazon.co.uk/House-Witchc...377515&sr=1-15
Kim Ki-Duk Double Pack (2 Discs)
From international art-house sensation Kim Ki-duk come two films about unusual women dealing with extreme passions and life choices. For fans of Breaking The Waves and similar fare.
The Isle: 'The Isle' tells a tale of a beautiful woman who lives on an eerie, remote lake selling food to fisherman by day, and her body by night. When the woman becomes obsessed with a suicidal former police officer haunted by the murder of his unfaithful girlfriend, what develops is a perversely intriguing love story...
Samaritan Girl: Two teenage girls, Yeo-jin and Jae-yeong, decide to fund their escape to Europe through prostitution, with the former conducting the business and the latter "entertaining" the clientele. But when Jae-yeong suffers the consequences of their actions, Yeo-jin embarks on a quest to redeem herself by tracking down their former clients one by one to replicate the earlier transactions. But when her father discovers what Yeo-jin has been doing, he snaps and decides to avenge his daughter's innocence...
Director Kim Ki-Duk
Studio: Palisades Tartan
http://www.amazon.co.uk/Kim-Duk-Doub...381607&sr=1-23
Kim Ji Woon Double Pack (2 Discs)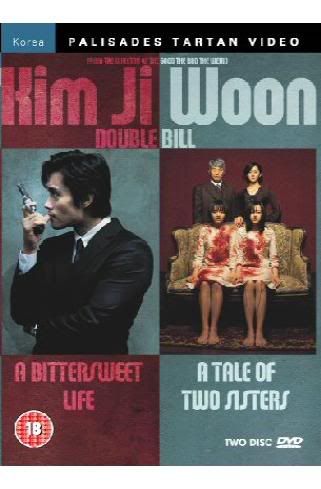 From the director of recent action smash The Good The Bad The Weird come his radical takes on the horror and gangster genres respectively and they're both the best of those genres too!
A Bittersweet Life: Lee Byeong-heon stars as Sun-woo, a unique character with a curious lifestyle; he's not only a valued gang member and the proprietor of a hotel bar but also the right-hand man to the powerful gang leader, Mr. Kang (Kim Yeong-chul). When Kang suspects that his beautiful young mistress Hee-soo (Shin Min-ah) might be messing around with another man, he enlists Sun-woo's help to resolve the matter, commanding him to follow her around to see what information he can dig up. Sun-woo's orders are explicit: if he catches Hee-soo cheating, he is to execute her. However, when Sun-woo spies Hee-soo with her boyfriend, he makes a fateful decision, one that will have major consequences for all involved...
A Tale Of Two Sisters: When sisters Su-mi (Lim Soo-jeong) and Su-yeon (Mun Geun-yeong) return home from a sanitarium having supposedly recovered their health, their stepmother Eun-joo (Yum Jung-ah) welcomes them back. However, elder sister Su-mi intentionally avoids her and younger sibling Su-yeon shows a smack of fear for her. Soon, strange things begin to happen in the house. Footsteps are heard and Eun-joo's birds are mysteriously poisoned. Assuming Su-yeon is behind the inauspicious incidents, the stepmother locks her in the closet, and when Su-mi learns about the cruel punishment, conflict between the stepmother and two sisters becomes more bitter than ever...
Director: Ji-Woon Kim
Studio: Palisades Tartan
http://www.amazon.co.uk/Kim-Woon-Dou...381607&sr=1-21
Views
3052
Comments
0
Comments
Trackbacks