dvd releases for 07/03/11
Posted 2nd March 2011 at 05:27 PM by
Kyle
---
hey guys and girls im going to try to start up this blog again, any ideas or comments would be appreciated good or bad


trailers included
Saw: The Final Chapter
The Saw series continues with this seventh entry, spearheaded by returning Saw VI director Kevin Greutert. Marcus Dunstan and Patrick Melton also are back to pen the script, which details the exploits of serial killer Jigsaw's surviving victims, who seek counselling from a self-help mentor (Sean Patrick Flanery) whose past as a previous victim figures directly into each one's fate. Cary Elwes returns to the franchise for the first time since his character survived Jigsaw's first cinematic outing in 2004.
Directed by Kevin Greutert
Label: lionsgate
Saw 1-7: The Final Cut Collection
This collection brings seven films in the horrifying SAW series which centre on sick, twisted Jigsaw (Tobin Bell), a damaged man at odds with humanity: a man who's made it his life's mission to lay traps for unsuspecting sinners and in doing so, sets the ball in motion for a series of terrifying games in which the ultimate prize is your life!
Directed by Darren Lynn Bousman,David Hackl,James Wan,Kevin Greutert
Label: lionsgate
Phenomena
Released in the US in heavily edited form as CREEPERS in 1986 (though this is the loger, European cut), Italian horror master Dario Argento's masterpiece manages to be involving and interesting while providing a steady stream of funhouse style shocks. Jennifer Corvino (Connelly) is attending a Swiss boarding school for girls when she discovers she is able to communicate telepathically with insects. When a serial killer begins murdering students, bug specialist Dr. McGregor (Pleasance) must help her use her powers to find the killer. With a soundtrack featuring Motorhead and Iron Maiden making the experience ever more disorienting, you won't know where Argento is taking you next.
Directed by Dario Argento
Label: arrowfilms
Bathory: Countess Of Blood
The infamous Countess Erzsebet Bathory, who is said to have maintained youth and beauty into her old age by bathing in the blood of virgins, has her life story told in a more balanced but still provocative manner in this grand-scale historical drama. Bathory, played by Anna Freil, is portrayed in three important episodes from her life. Bathory falls in love with the legendary artist Caravaggio (Hans Matheson) and attempts to win his heart, which doesn't much amuse her husband Ferenc Nadasy (Vincent Regan). Later, Bathory becomes close friends with Darvulia (Deana Jakubiskova), a woman said to have remarkable healing powers, as observers remark upon Bathory's beauty which seems impervious to the passage of time or the stress of her life. And after the death of her husband, Bathory rises to a position of political power in Hungary, as Palatine Thurzo (Karel Roden) leads a plot to scuttle her ambitions.
Directed by Juraj Jakubisko
Label: metrodome
Prowl
A small town girl with big city dreams gets dragged into terrifying nightmare of unimaginable horror while scouring the city for an apartment with her fun-loving friends. Fed up with rural life, Amber (Courtney Hope) decides that it's high-time she began a new adventure, and recruits a small group of friends to help hunt for an apartment in the city. In the midst of their search, however, the group becomes stranded. When an outwardly benevolent truck driver offers to give them a lift in the back of his semi, Amber and her friends can't believe their good look. But their initial relief turns to sheer terror when the driver refuses to pull over and let them out, and a closer look at his cargo reveals a bloody secret. Later, when the truck pulls into a derelict warehouse that serves as the hunting grounds for a hungry breed of flesh-eating beasts, the fight for survival begins.
Directed by Patrik Syversen
Label: g2pictures
Damned By Dawn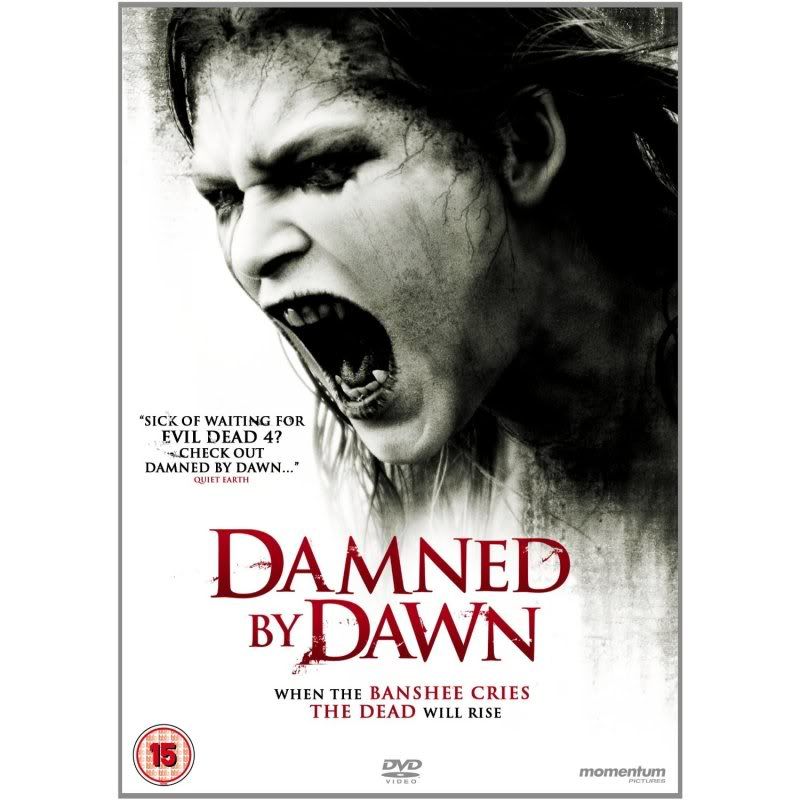 A young woman visiting her dying grandmother pays a high price for interfering with death in this energetic horror yarn inspired by the films of Sam Raimi. Somewhere on a farm in the deep country, Claire's (Renee Willner) grandmother is knocking on death's door. When Claire fails to heed the dying woman's warning not to meddle in the banshee's business, the dead rise up to stake their claim on the living. The mayhem starts when the sun goes down, and anyone unfortunate enough to be on this farm when all hell breaks loose is sure to be DAMNED BY DAWN.
Directed by Brett Anstey
Label: momentum
Wake The Witch
Three friends inadvertently awaken a powerful witch during an excursion into the forest. As the witch's influence spreads, the trio struggles to find the answer that will break her curse. Little do the naive teens realise that they're dealing with forces far beyond human comprehension.
Directed by Dorothy Booraem
Label: laceinternational
Someones Knocking At The Door
A group of depraved medical students find themselves at the mercy of two sexually-sadistic serial killers in this shocking and surreal horror film from director Chad Ferrin. Back in the 1970s, John (Ezra Buzzington) and Wilma Hopper (Elina Madison) shocked the world with their gruesome rape and murder spree. Flash forward about 30 years, and a group of drug-addled medical students have unearthed the maniacs' medical files. Obsessively pouring over all the gruesome details as they indulge in various psychotropic drugs, the students soon discover that evil never dies when John and Wilma return from oblivion on a mission of psychedelic mayhem.
Directed by Chad Ferrin
Label: 4digitalmedia
Pornography: A Thriller
David Kittredge directs this chilling, erotic indie about obsession in the adult film world. Over a decade ago, a gay porn star named Mark Anton left the industry, seemingly vanishing into the ether right as his career was picking up steam. Though everyone had a scandalous theory about why he left, no one sought the truth -- until now. When Michael, a young researcher, comes across the story, he decides to investigate, and quickly spirals into a frightening, supernatural fun house of snuff films, voyeurism, and waking nightmares.
Directed by David Kittredge
Label: peccadillo
Last Victim
William Forsythe stars as John Wayne Gacy in this shocking drama detailing the bizarre relationship between the notorious serial killer and the clever college student who put his own sanity on the line in a bid to get the information the police couldn't. Inspired by author Jason Moss' autobiographical book of the same name, THE LAST VICTIM follows overachieving student Moss (Jesse Moss) as he establishes contact with the killer in prison for a classroom assignment. Determined to gain Gacy's trust, Moss assumes the role of a sheepish teen enamoured with the prolific psychopath. Following a series of intensely personal phone calls in which both the writer and his subject laid bare their most intimate secrets, Moss ventures behind prison walls for a private meeting with Gacy. Little did Moss realize he was playing with fire; in his bid to manipulate Gacy into divulging untold details about his notorious murder spree, the probing student granted his twisted subject unprecedented access to his own fragile psyche - a fateful misstep that eventually cost the author his life when he committed suicide in June of 2006
Directed by Svetozar Ristovski
Label: anchorbay
Views
5891
Comments
7
Comments
Trackbacks