Duel Project
---
Duel Project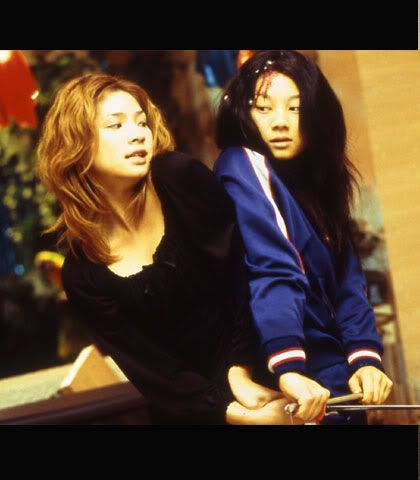 A unique Japanese film experiment, The Duel Project features two movies, both made under strict rules given by the two films producer. The films were to be shot in a single location, feature no more than three actors, one of whose character had to die. The budgets had to be small and a maximum eight days of shooting was allowed.
I've always been intrigued by filmmakers imposing strict criteria on their work; Lars Von Trier's work and the other directors who've created work under the Dogme95 rules come to mind, and films like Festen and The Idiots have attempted to strip film of it's artifice in an attempt to create a more human style of cinematic art. The Duel Project uses similar ideas to produce two genre pictures, which makes for an interesting blurring between the arthouse and the grindhouse.
The directors are forced to push their creativity in order to keep an audience enthralled despite the strictures of the small cast, limited space and a short production schedule.
The results are two films that compliment each other perfectly and fans of cult Asian movies will be in their element. The director of Undead Yakuza classic Versus, Ryuhei Kitamura, produced Aragami, in which an enraged god dukes it out with a master Samurai in an old temple.
Meanwhile Ryuhei Kitamura, the filmmaker behind Forbidden Siren, took a very different approach in his film, 2LDK, which features two Japanese actresses who share an apartment. When they find out that they are both in the running for the same part, bitchy asides soon turn into a titanic battle to the death, all played out in domestic setting.
It's Battle Royale in a small flat and it's one of the most extreme slices of cinematic violence I've seen in a while. Grisly and darkly funny, it's worth seeking out. Duel Project presents a new and different take on the media create 'Asia Extreme' genre, for those who long ago grew weary of soggy, raven haired ghosts seeking fearful vengeance...
Comments
Trackbacks