Mudfish and a Bear Called 'Hoss
---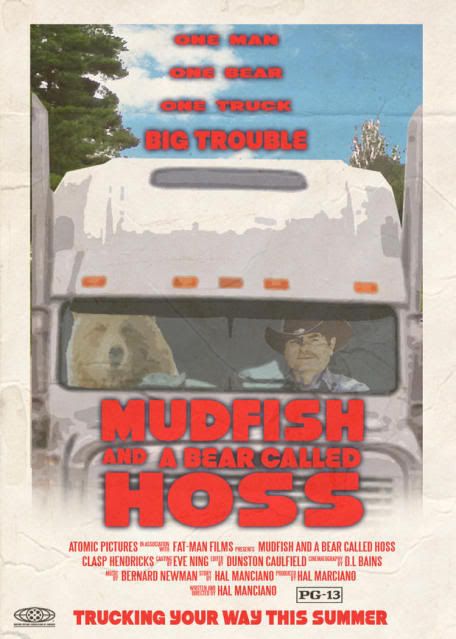 Year: 1970
AKA: Grizzly at the Wheel / Keep on Truckin' Grizzly Bear!
Mudfish McCollins - Good ol' boy, interstate arm wrestling champion, roadhouse Casanova - is a trucker with a difference. He's got 1200 lbs of North American Grizzly sitting in his cab. Meet 'Hoss ("Barnard" - Grizzly Makes a Bet / Grizzly Makes a Deal / Grizzly Saves Christmas) a bad tempered bear with a heart of gold.
Together they cruise the Southern states, entering arm wrestling contests, delivering the sometimes illegal goods and staying one step ahead of the law, particularly Sheriff Harrington, a small town law man with a big chip on his shoulder.
When a shipment of dolls turns out to contain illegal Cuban cigars, Mudfish and his furry companion find themselves in deep stew. They've got the State Troopers, the National Guard and that weasel Harrington burning rubber trying to catch them.
Their only hope is ride through the night and reach Piston County, a little patch of Kentucky where Truckers run the town and the law of the road rules supreme. The Mayor of Piston is Old Jake (Clem Caboose - The Poisoned Moustache / The Cranberry Plot / Tarzan of the Third Reich) and if Mudfish and 'Hoss can get to him in time, the law won't be able to touch them.
And so begins a rootin' tootin' hell ride across state lines, as Mudfish puts pedal to the metal, sending Motorcycle Police careening off cliffs, Helicopters into the sides of mountains (or more accurately and conviently, behind some trees, seconds before the explosion...) and Sheriff Harrington's cruiser crashing into a series of road side signage, chicken coops and fruit and veg stands.
Along the way, Mudfish and 'Hoss draw the ire of the Black Emeralds, a low down mob of dirty Biker scum who chase them across three states after 'Hoss sends their parked Hogs tumbling to the Asphalt like chrome Dominos.
Another highlight is the Arm Wrestling scene, in which 'Hoss accidentily tears a bartenders limb from it's socket, sending it through the front window. This triggers a bar brawl which has entered the Guiness Book of Records as the longest ever filmed. It's a drunken bust-up of such epic proportions that director Hal Manciano had to call in a favour from an old friend at the Texas State Penitentiary. So many prisoners escaped during the shoot that the real National Guard had to be called in.


Clem Caboose - Selected Filmography
1946 Stick 'Em Up... Your Majesty!
1946 Crawdaddy Cop
1947 Abbot & Costello Meet the Cretins
1948 Baloon Ride to Laramie
1949 Hollywood Regicide
1950 The Whispering Werewolf
1951 The Goodtime Gals Get Gotten
1953 Zorro Unfettered
1954 Hercules and the Leper
1955 Hercules and the Undead Concubines
1956 Hercules Goes Bananas
1957 Tarzan of the Third Reich
1958 Dead Men Can't Walk
1960 Ugly Jake and the Naked Indians
1961 Secrets of the Suburban Love Hotels
1962 Teenage Wigwam
1963 Two-Wheel Frankenstien
1965 Boy Slaves of Neptune
1967 Blood on the Paisley
1970 The Poisoned Moustache
1974 The Cranberry Plot
1978 My Boss, The Monkey
1985 Mudfish & a Bear Called 'Hoss
Views
2603
Comments
4
Comments
Trackbacks