9th February 2012, 04:37 PM
Competitions Moderator

Cult Labs Radio Contributor
Good Trader

Join Date: Jan 2008

Location: Norwich, UK
P:CBH Valentine's Day
---
CAUTION: The below contains terrible terrible puns and a huge emphasis on soppy romance.
It's nearly Valentine's Day! A day in which endless companies try to sell you vomit-inducing junk you'll never normally buy. You either love it or you loathe it (or in some cases, lust it...ahem). Whether your a singleton looking for some loving, a doe-eyed love-bird head over heels in lovey-dovey-ness or an old grouch who hates everything but cabbage, we need your help!
Below are some Prisoner: Cell Block H Valentine's Day cards that you can print off, email, do as you please with. Help us create some more by either making some yourself OR sending in a (terrible) Prisoner pun and we'll do the rest.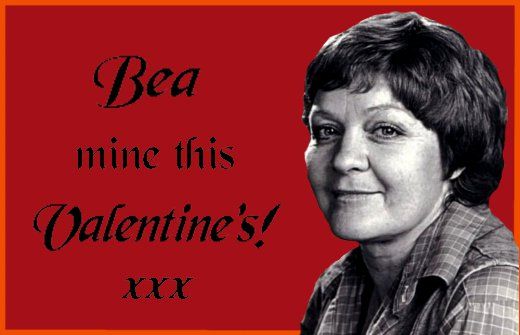 The tackier the pun the better!
__________________
The best cult movies free on Amazon Prime
(updated regularly)