Wicca and Paganism has long since been the subject of horror and evil. From music,  countless movies (most notably The Wicker Man and it's new sequel The Wicker Tree) and blood-curdling tales, the Pagan's have often been associated with their acts of terrifying human scarifies. But if you think Paganism is merely pentagrams, you'd be wrong. Very, very wrong. Whilst only a few people could honestly say they are in possession of a cauldron hidden away in the back of a cupboard, next to a broken vacuum cleaner and some VHS, there's quite a few Pagan ritual objects which are used every day. Yes, dear reader, as you type this you are most likely surrounded by bits and bobs once used (and still used!) for Paganist rituals including…human sacrifices! So, let me guide you through the top 5 pagan objects that you're likely to have in your household. Please, sit down. Shocks are so much better absorbed with the knees bent.
1. Salt
Besides tasting great on chips, Salt has played a key role in rituals and religion for a very long time. From the Hebrew Bible containing thirty-five versus based on this ingredient to the Aztec God of Fertility, Huixtocihuatl who presided over it. In Wicca, salt is believed to possess purifying qualities against evil. In fact this idea of salt as a tool to purify evil can be traced back to the Ancient Egyptians and Greeks and is thought to be the origin of Holy Water in Christianity. It's no surprise then that salt is often used against witches (a la Hocus Pocus). If you're a superstitious type, you'll know all about this. Spilt some salt? Be sure to purify the air and flick some over your shoulder before the Devil gets you!
2. Mistletoe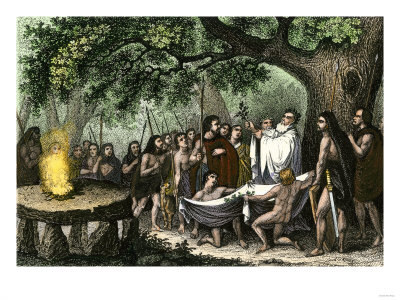 Aw, Mistletoe. A favourite with romantics all over the world. But Mistletoe would've been used for much more than a sneaky little snog with a drunk friend once upon a time. Despite being used at Christmas these days, the ritual goes back to the Pagan religion (anyone who's seen The Wicker Man will know just how sexually liberated they are in comparison). In the 1300′s the use of Mistletoe was even banned by the Church! Way back when, the Druids would also use Mistletoe in rituals of fertility, which would result in feeding cattle this plant before sacrificing two white bulls.
3. Horseshoe
Another superstition that's still used today. The Horseshoe is said to bring good luck to whoever owns it. You've probably got one lying around the house somewhere. But what exactly has this got to do with Paganism? Well, the crescent shape of the shoe links to the Pagan Moon goddess. Now you know where your lucky charm  is apparently getting its powers from!
4. Crystals



It seems that crystals have seemingly become more and more popular. There's now at least three shops that specialise in selling crystals and other stones near to where I live. But don't be fooled into thinking that crystals are just pretty stones. Far from it. As many of the customers know, crystals are believed to hold healing powers, powers to bring good fortune and a whole wealth of other apparent attributes. Where does all this come from? Yep, you got it. Wicca.
5. A Giant Wooden Man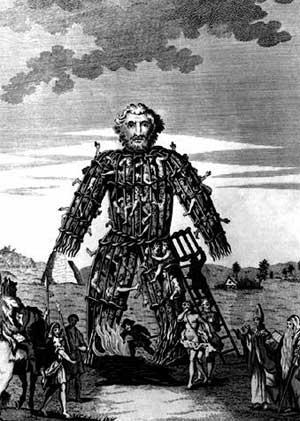 Perhaps the most strangest of these Pagan objects is one we use every day. This giant wooden statue which is shaped like a man is used in these modern times daily, to burn unsuspecting Christians in order to appease our Gods. But did you know that this is also an old Pagan tradition? Wait…what?! You mean sacrificing Christians in a giant wooden structure is…illegal?
Time to go into hiding…
Anchor Bay's  DVD & Blu-Ray release of Robin Hardy's THE WICKER TREE is out on the 30th April. Visit the Official Forum here or pre-order yours from Amazon.