Forget pirates! Forget zombies. Even forget dinosaurs! There's only one thing that can take the gold medal for awesomeness and that's…ninjas.  Dressed all in black, these expert stealth fighters are quick, silent and deadly. You never know when or where you may bump into one, and when you do it's too late! In fact, ninjas are all but undefeatable. In all of history, only one man has proven to be a worthy challenger. A man who once punched a baby elephant into puberty. A man who knows the quickest way to someones heart is with a punch. A man who's so notorious, the boogeyman checks his closet fearing him every night. Of course, it's Chuck Norris! With the upcoming release of the Chuck Norris classic Ninja film, The Octagon out on DVD and (for the first time ever!) glorious Blu-ray, it's time to celebrate all things Ninja! With the help of those all-knowing members on the Cult Labs Forum, here's a list of the great ninja films of all time… Part One!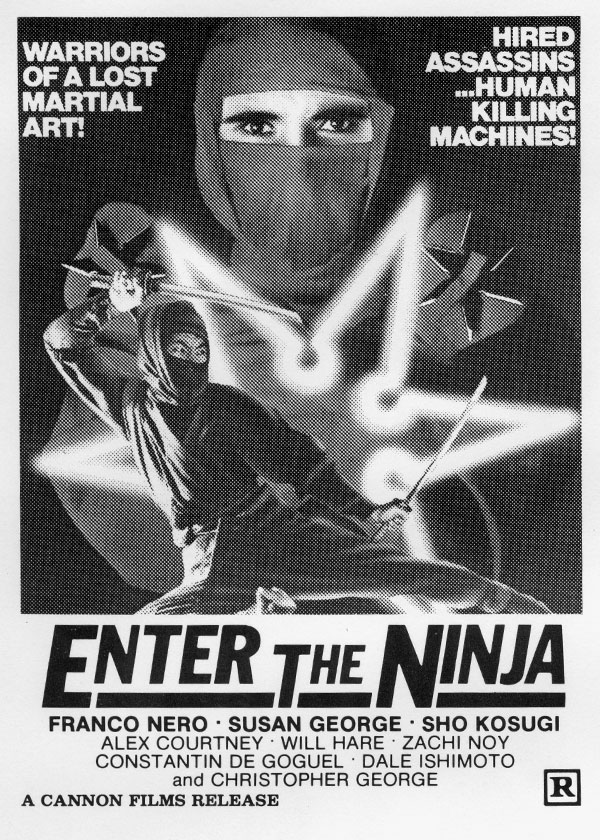 1. Enter The Ninja (Menahem Golan, 1981)
Kicking of this countdown is one of the most notorious ninja films of all time. Starring the iconic Franco Nero in the lead role, this epic action-er spawned two equally great sword 'n' shuriken classics of the genre; Revenge Of The Ninja and Ninja III: The Domination. The film is best known for introducing Sho Kosugi to the world, a Japanese martial artist who was an expert in many fields of combat, before starring in a constant stream of ninja films! Here he plays the rogue black ninja – one of the greatest in all of cinema. As the trailer so subtly puts it, "Ninja, ninja, ninja, ninja. Ninja, ninja, ninja, NINJA!". Yep, this film is a ninja film.
2. Shogun Assassin (Robert Houston, 1980)
This ninja film has remained a cult favourite since it's release in Grindhouse cinemas decades ago. Made for an English speaking audience, Shogun Assassin was edited from the first two films in the Lone Wolf And Cub series from the early 1970s. The movie is a gorehound's dream come true with the crimson liquid flowing fast and far. Perhaps it's no surprise then that this film was originally banned in it's uncut form here in the UK! Starring Tomisaburo Wakayama from the hugely popular Zatoichi series, Shogun Assassin is a must have for ninja fans.
3. You Only Live Twice (Lewis Gilbert,
1967)
Whilst not exactly up to Chuck Norris' level, Sean Connery revived his most famous of roles in the fifth 007 movie. Blofield (played by Donald Pleasence) is at those dastardly deeds again! This time the espionage action takes place in Japan, home to a secret service ninja force, Bond and these fast as lightning fighters must team up and save the world from the clutches of the evil Blofield and his plans for a third World War. Not the best of the franchise, but definitely not the worst.
Keep your eyes pealed for ninjas and the second part of this countdown soon. Why not head over to the thread to suggest your own Ninja films to include here?
Don't forget the fantastic action-packed ninja epic, The Octagon is out in glorious High-Def on the 30th July 2012! Order yours today.