The Howdy Family
---
The Howdy Family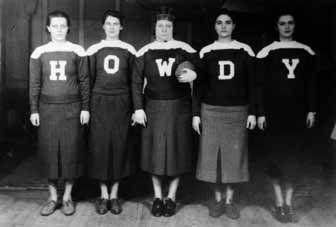 From Left: 'Ribs' Howdy, 'Runt' Howdy, Veranda Howdy, 'Rump' Howdy, Rev. Shrimp Howdy
Sibling Free-Jazz-Punk group "The Howdy Family" are well known for their violently confrontational live shows, which saw Saxophonist Veranda Howdy smashing her instrument into the side of music critic Dick Shunt's head at an infamous gig in London's Denge Club earlier in the year.
Formed by the home schooled Brothers and Sisters in the early 90s, the Howdy Family are heavily involved in the obscure cult "SEXO 3000" and follow a stanch and humourless doctrine, a world view that infects both their recorded output and their live shows, where the subliminal messages hidden within the unlistenible racket produced by the band has been known to cause sudden outbreaks of speaking in tongues.
The five brothers and sisters were pulled from school by their highly religious parents after a single year in Kindergarden. Under the tutelage of their apocalypse obsessed parents, the family endured an educational regime of beatings, cold showers, endurance training and obscure German Free-Jazz bands, a combination that has turned them into one of the most exciting live bands on the underground circuit.
Controversy dogs the band wherever they play, with organized protests by local Atheist groups becoming a regular feature of their appearances. Their stated aim is create an international theocracy under the leadership of their increasingly secretive parents and that music is their chosen weapon of change.
Despite the suspect nature of their message, they are currently the best selling act of all time in Peru, where they play to 1000s of delighted acolytes, many of whom survive the experience and go on to raise families of their own...
Views
3049
Comments
0
Comments
Trackbacks