dvd releases for 31/08/09
Posted 24th August 2009 at 06:21 PM by
Kyle
---
Footprints (aka: Le Orme)
Director Luigi Bazzoni
Studio: Shameless
amazon link
http://www.amazon.co.uk/Footprints-D...1136520&sr=1-1
trailer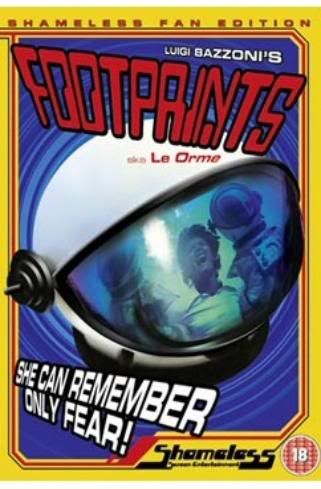 Lose yourself in the previously thought long lost classic thriller that is Footprints. Never before released in the UK and unavailable worldwide on DVD until now, this exclusive re-build edit is not to be missed.
In this masterful, surreal and extraordinary film, Florinda Bolkan plays Alice, a young translator who finds the real world slowly merging with her nightmares as she tries to solve her memory loss of the past few days. A postcard leads her to the island of Garma where the people there not only seem to know her, but also her vivid dreams of an astronaut left behind on the moon become steadily stronger...
Directed by Luigi Bazzoni (The Fifth Cord) and boasting chillingly atmospheric cinematography by Vittorio Storaro (Apocalypse Now), Footprints is the loneliest, most haunting and beautiful giallo you will ever see.
Dead Snow
Director Tommy Wirkola
Studio: E1 Entertainment
amazon link
http://www.amazon.co.uk/Dead-Snow-DV...xgy_d_h__img_c
trailer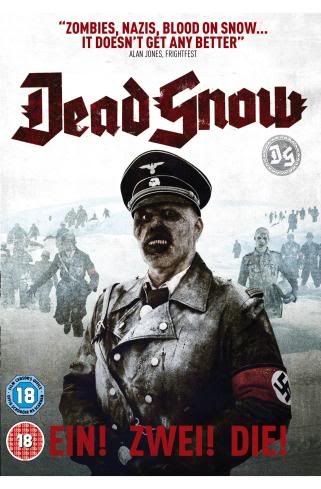 With a car packed full of ski equipment and enough beer to fuel their escape from everyday life eight medical students head out on their Easter vacation.
Isolated in the snowy hills the group begins to realize they came to the wrong resort, as deep in the hills lay an unthinkable evil.
Gory, disturbing and brilliant... get ready for the horror comedy of the year!
Smash Cut
Director Lee Demarbre
Studio: Lions Gate Home Entertainment
amazon link
http://www.amazon.co.uk/Smash-Cut-DV...1136682&sr=1-1
trailer
Inspired by the career of Herschell Gordon Lewis, Smash Cut follows failing B-movie director Able Whitman who sets out to make a name for himself by creating the ultimate horror movie - no matter what the cost.
Outlander
Director Howard McCain
Studio: Momentum Pictures Home Ent
amazon link
http://www.amazon.co.uk/Outlander-DV...1136730&sr=1-1
trailer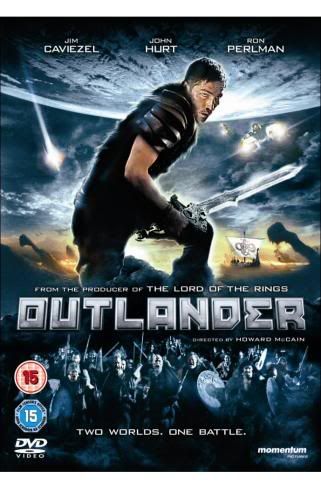 When Kainen (Jim Caviezel), the last survivor from a far off planet, crashes on Earth in the Iron Age, he unwittingly brings with him a creature of unimaginable horror. Now he must join forces with the Viking locals led by Rothgar (John Hurt) to destroy this monstrous foe, before it's too late!
In the year's most action-packed sci-fi adventure, James Caviezel (The Passion of the Christ) stars as a futuristic soldier who crash lands on Earth with a hellish, fire-breathing monster in a time of warring Viking tribes. Fusing advanced technology with Iron Age weaponry, he must unite the fierce Vikings and hunt the bloodthirsty beast before it kills them all. Directed by Howard McCain and featuring Ron Perlman (Hellboy films), Sophia Myles (Underworld films), and John Hurt (Indiana Jones and the Crystal Skull), Outlander is "visually spectacular" (Michael Wilmington, Chicago Daily Herald), combining stunning special effects, fast-paced action, and a fantastic story to explosive effect.
Fatal Move (aka: Duo Shuai)
Director Dennis Law
Studio: Showbox Media Group Ltd
amazon link
http://www.amazon.co.uk/Fatal-Move-D...1136860&sr=1-1
trailer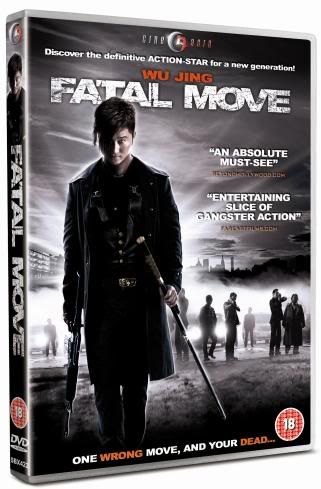 In the ultra-violent world of Hong Kong's Triad societies, one wrong move can be fatal...
When a drug deal goes wrong, a simple kidnap turns to murder and a secret mission becomes a savage massacre, one of Hong Kong's most ruthless Triad gangs is on the verge of self-destruction. It's riddled with greed, ambition and pursued by enemies on both sides of the law. Only its legendary leader, Lin Ho Lung (Sammo Hung) can save it by re-asserting his authority and destroying everyone who stands in his way.
With a stellar cast including International Action Superstar Sammo Hung (SPL, Martial Law), Wushu World Champion Wu Jing (SPL, The Mummy 3) and Simon Yam (IP Man, Tomb Raider 2), Fatal Move is a series of stunningly gratuitous, full-contact action scenes that will leave you breathless!
Bride Of The Monster
Director Ed Wood
Studio: Brightspark
amazon link
http://www.amazon.co.uk/Bride-Monste...1136911&sr=1-2
trailer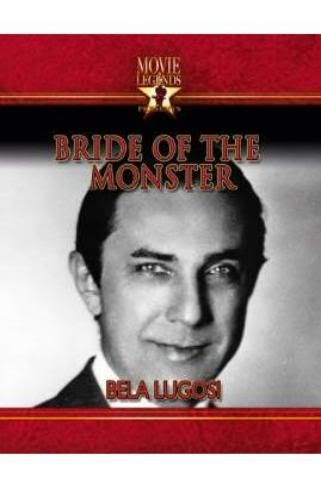 Diabolical! Fiendish! Horrorific! Legendary horror icon Bela Lugosi (Dracula) stars as Dr. Eric Vornoff, who with Lobo (Tor Johnson), a crazed man-beast servant, is conducting flesh-burning radiation experiments in an attempt to create a legion of atomic supermen.
Co-written, produced and directed by cult filmmaker Ed Wood, Jr., "Bride of the Monster" includes Ed's infamous stable of players: Dolores Fuller, Tor Johnson and Paul Marco (Plan 9 From Outer Space). This was Bela Lugosi's last screen performance and one of Ed Wood's best efforts.
Views
2872
Comments
5
Comments
Trackbacks