Something Weird...
---
Odean issued some the Something Weird DVD a while back and, although the discs weren't as special as the extra packed R1 editions, it was still great to see these bottom shelf oddities in UK stores. Republishing this review gives me an excuse to post up some really odd trailers...
She Freak / Taste of Blood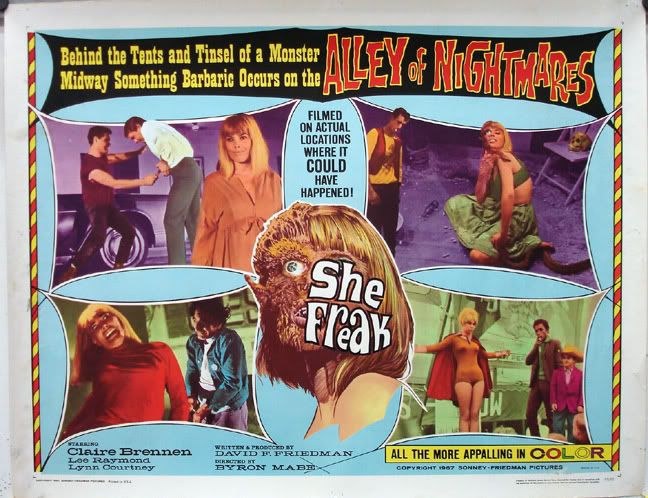 A candy coloured 60s remake of Todd Browning's Freaks, She Freak is cheap drive in movie dreck that entertains and perplexes at the same time. The movie was shot by someone who obviously loved the travelling fun fair, because there's so much travelogue style footage of Ferris wheels and Carnies putting up tents. So as an exercise in vintage American kitsch it's already a winner.
Add to this a story about a gold digging waitress whose sunk her hooks into the freak shows boss and is scheming to rise up the carny ladder (I know, it is a weird concept for a movie) and you've got a unique movie if your patient and have a taste for these kinds of weird B-movies.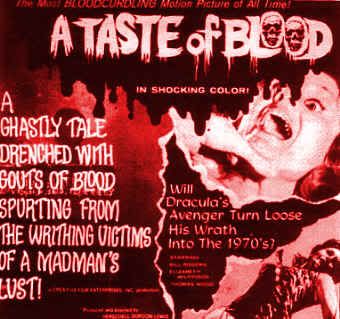 She Freak is backed with HG Lewis' epic vampire yarn, Taste of Blood, which updates the Dracula myth by having lots of people sat around in motel rooms and lobbies talking about vampires. HG Lewis invented the modern splatter movie and this slightly later work has plenty of gore to keep the bloodhounds happy. It also has loads of freaky dialogue, library music, no clear idea of where it going and the cheapest production values you might ever see but HG Lewis is a genius at these barrel scrapers, having made such dubious classics as Blood Feast and personal favourite, She-Devils on Wheels. Taste of Blood fits right into his canon of work, being a really bad movie that you feel compelled to watch to the end because it so mystifyingly hilarious.
Bad Girls Go To Hell/Another Day Another Man
Another set of roughie "classics" from the queen of grindhouse cinema, Doris Wishman, a woman who's ineptitude behind a camera is matched only by the outlandish subject matter of her films. I love Wishman, she's so bereft of talent that it's almost delicious. I these two corkers she combines the conventions of the 60s "roughie" flick, torture, abuse, sexism and leering men with a conservative morality ("Look at this terrible woman, it's her fault that bad stuff happened to her") that would be hilarious if it wasn't so damned sleazy. Combine this with Wishmans wandering camera shots which seem to favour the soft furnishings over the cast and a script that brings unintentional comedy to new heights and you have a couple of lost trash classics.
Scare Their Pants Off/Satans Bed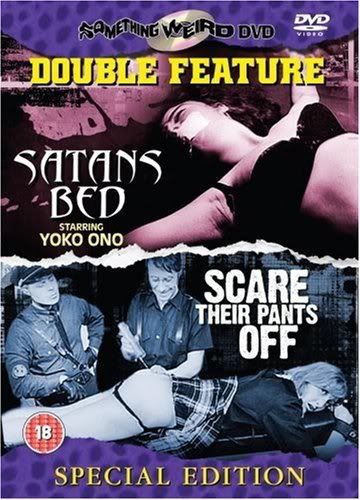 Another UK port for a double bill of grimy grindhouse insanity from the US label Something Weird, who specialize in all kinds of marginal drive-in fare. This release concentrates yet again on the 'roughie' sub-genre, and it's interesting that the UK reissues concentrate on these movies, a style of softcore which emphasised the rough handling victims, sadism and leering, seedy performances by the male actors. Does this say something about our repressed British tastes? Something Weird have all sort of Mexi-horror, monster movies and juvenile delinquent pictures but there's a kinky streak running through the Brits, which is why Odeon also released a triple bill of the "Olga" series, a brilliantly downbeat S&M franchise (see below).
Satan's Bed has the added noteriety of starring a young, slumming Yoko Ono. Scare Their Pants Off is the usual roughie business which, although kind of twisted, has some sick comedy value.
The Olga Films
Odeon compiled three of the four official Olga films on one value packed DVD, The Olga Whiptastic Triple Bill! So, innocent young girls, tremble with fear as we enter 'Olga's House Of Shame', learn the secret shame of the 'Dance Hall Girls' and delve into the seamy underbelly of New York in 'White Slaves Of Chinatown'.
Olga movies ruled the grimy cinemas of 42nd Street New York, in an area of grindhouse theatres known as 'The Deuce', during the 1960s. The Olga series were a collection of pre-Porno chic S&M movies that shied away from censor-baiting explicit sex scenes, focusing on submission, lesbian sub-dom and torture (surprisingly brutal torture considering the age of the films) all set to a swinging loungey score.
Olga is a queen bitch who works for the Mafia and keeps her harem of slave girls in line with harsh discipline. There's a lot of whipping and heavily engineered underwear in these obscure weird gems. These movies are a prime example of the kind of underground, moneymaking flesh films that passed beneath the censors radar in the pre-hardcore days of sex pictures, when there where some genuine auteur filmmakers creating exploitation movies that reflecting their own quirks and foibles.
The three B&W S&M epics on offer here are queasy, off the wall softcore pictures with a mean streak and a good line in OTT plot and acting. Of course all the exposition scenes are only there to serve the sexual mayhem of the dungeon and torture sequences but they entertain nevertheless. These aren't for everyone, their cheap, patchy and oddly paced, but for fans of the bizarre end of 60s pop culture or cult movie fans who like to dig a little deeper into the mire for their DVD kicks, this triple bill is a winner!
Comments
Trackbacks